SABAR is an energetic dance from Guinea. Sabar dancers hurl their legs and arms back and forth with phenomenal intensity, sometimes do rapid-fire turns and often explode into the air in jumps.
769.Shad Nongkrem / India
Shad Nongkrem is the most important festival of the Khasis in Meghalaya, India, a five day long colourful held annually in November at Smit, the capital of the Khyrem Syiemship near Shillong. It is an occasion for thanksgiving to the all powerful Goddess Ka Blei Synshar for a rich harvest and for the prosperity of people. Young lads brilliantly clad in colourful silk dhotis, coat and a plumed turban, adorning glittering ornaments dance around with a sword or spear in one hand and usually a white Yak hair whisk in their left hand. Pretty maidens in magnificent silk-robes and elaborately decked in priceless intricately designed ornaments of gold and silver, wearing a silver crown, move in an inner circle in two's and three's taking tiny steps while the lads form a protective ring around them flashing their weapons.
770.Shad Suk Mynsiem / India
Shad Suk Mynsiem is celebrated in the month of April as a prayer to mother nature for good harvest and for fresh sowing of seeds. Both men and women participate in the dance. The dance begins with drums, flutes and cymbals picking up the tempo. Two circles are formed with women on the inside and men on the outside. With eyes down, the women take small steps forward and backward as they gradually shift sideways to move in a circle. The men do a more energetic dance with swift movements in clockwise and anticlockwise direction around women. Ka Shad Suk Mynsiem is symbolic of women fertility where they are the receptacles of seeds and bearers of fruit, and men are cultivators who plant, cultivate and nurture the seeds until they are harvested.
Saila s a stick dance performed by the Gond tribe during the post-harvest season. Chhattisgarh has a considerable population of tribal people. Majority of them are directly or indirectly dependent on agriculture. Thus, harvest seasons are of utmost importance and are celebrated with much enthusiasm and dances.
Sajuriana is a dance from Chile. The choreography consists of a confrontation of the dancers, who, at the beginning of the song, make a complete turn, turning the woman to the right, in three quarters of an imaginary circle, and the man, in the same direction. During the introduction, the performers follow the rhythm of the music with clapping. To begin with, the lady takes her skirt with her left hand and the handkerchief with her right hand, holding it up a little above her head. The man can take it with both hands, making a pavilion over the head of his partner, moving with grace to the beat of the music. The music consists of two parts, corresponding to the couplet and the chorus, each formed by a regular binary period. The interlude of the melody possesses the same slight undulatory character as the most of Chilean folklore dances.
Salegy is the traditional dancing for the Malagasy located in the north of Madagascar. It presents the common of several ethnical groups such as Betsimisaraka, Sakalava, Antakarana, Tsimihety. The use of traditional costumes also forms an essential element of dance performances. Among the various ethnic groups, there is a wide range of ornamented robes, shirts and pants that are worn for dance purposes. The lamba, for example, a woven piece of silk symbolising prestige and power, is a central characteristic in many Malagasy regions. All in all, the traditional dances of Madagascar do not only serve to manifest social identity, but also play an important role in transmitting historical, secret knowledge from generation to generation.
SALSA is a popular form of social dance that originated in the Caribbean. Its movements have origins in Puerto Rican bomba and plena, Cuban Son, cha-cha-cha, mambo and other dance forms. It originated in the mid-1970s in New York. Different regions of Latin America and the United States have distinct salsa styles of their own, such as Cuban, Puerto Rican, Cali Colombia, LA and New York styles. Salsa dance socials are commonly held in night clubs, bars, ballrooms, restaurants, and outside, especially when part of an outdoor festival. In many styles of salsa dancing, as a dancer shifts their weight by stepping, the upper body remains level and nearly unaffected by the weight changes. Weight shifts cause the hips to move. Arm and shoulder movements are also incorporated.
SALTARELLO is still a popular folk dance played in the regions of Southern-Central Italy, such as Abruzzo, Molise (but in these two regions the name is feminine: Saltarella), Lazio and Marche. The dance is usually performed on the zampogna bagpipe or on the organetto, a type of diatonic button accordion, and it is accompanied by a tamburello.
Samaia is performed by three women. It was originally considered to be a dance from Pagan times. However, nowadays it is seen as a representation of King Tamar and her glory. King Tamar in many sources is mentioned as a Queen of Georgia. However, she was considered to be the king of the United Kingdom of Georgia in 12th-13th centuries and was the first woman king in Georgia's history. The idea of trinity presented in the dance represents King Tamar as a young princess, a wise mother and a powerful king. All these three images are united in one harmonious picture. Moreover, simple yet soft and graceful movements create an atmosphere of beauty, glory and power that surround King Tamar's reign.
Samba is a lively, rhythmical dance of Afro-Brazilian origin in 2/4 time danced to Samba music whose origins include the Maxixe. It is a dance of black/African people in Brazil who brought much of their music and dance culture into Latin America upon their arrival into many Latin American countries. Samba music is very similar to and has been influenced by many Angolan music genres. It has also been influenced by many other Latin American music genres and dances. The Samba music rhythm has been danced in Brazil since its inception in the late 16th century. There is actually a set of dances, rather than a single dance, that define the Samba dancing scene in Brazil; however, no dance can be claimed with certainty as the "original" Samba style.
Samia is a Traditional dance performed by Samia people from the eastern Uganda on happy occasions.
SAMO is a traditional dance from Samo in Burkina Faso.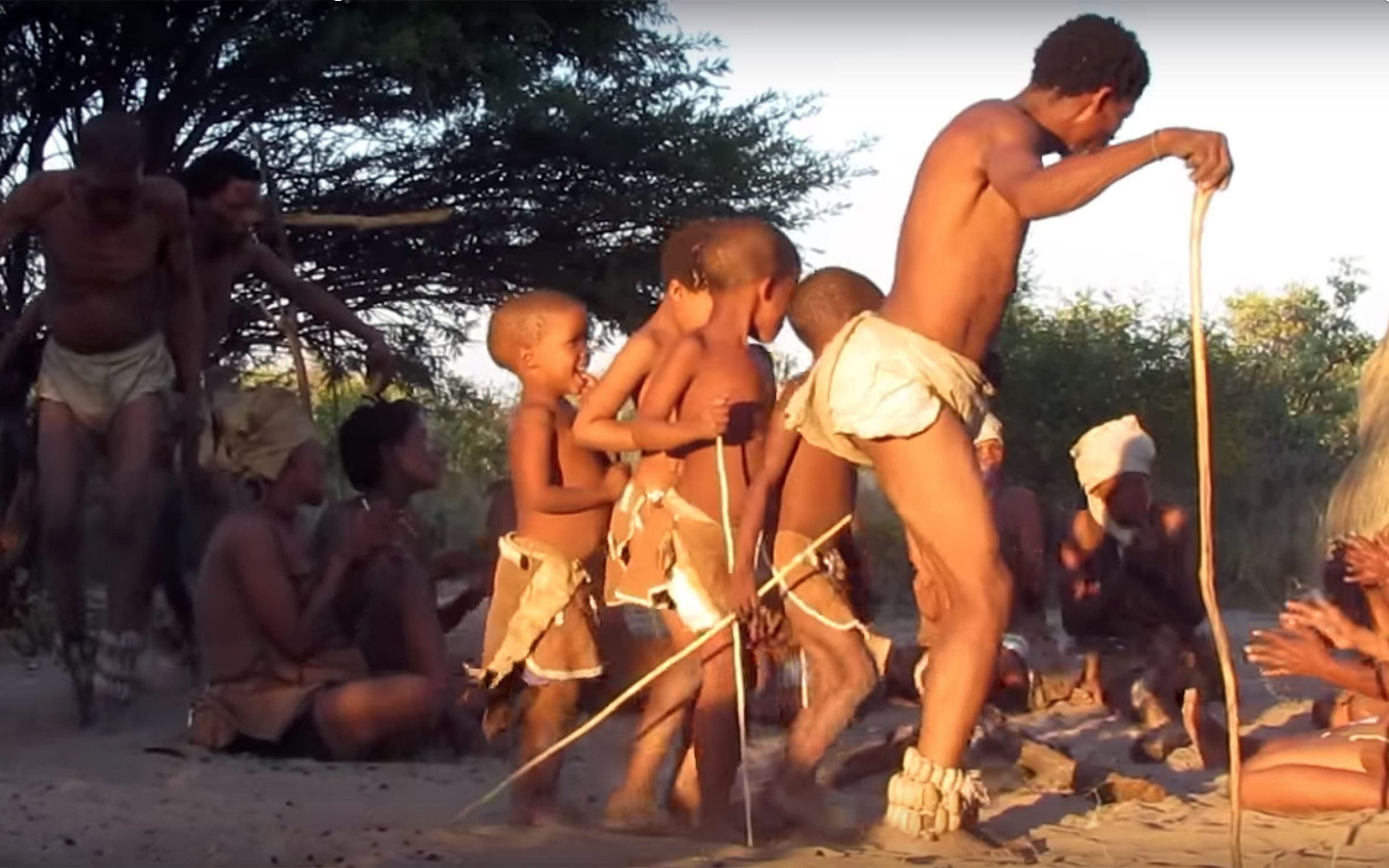 780.San Dance / Botswana / Namibia
San Dance is a hunting and gathering dance (sometimes referred to as the rain dance) which the Sarwa tribe use to celebrate for good hunts, while the Tswana ethnic group use it for rain making or "go fetlha pula". The Basarwa is classified as hunter-gatherers, therefore perform the rain dance as a celebratory dance to thank Gods for every successful hunt.
781.SAO MAKO / Wallis & Futuna
SAO MAKO is a traditional warrior dance from Wallis & Futuna, French Territory. It can be practiced as a group during special occasions such as weddings, festivals, anniversaries and celebrations.
Sârba is a Romanian dance normally played in 2/2 or 2/4 time. It can be danced in a circle, line, or couple formation, and it was historically popular not only in Romania, but also in Serbia, Ukraine, Hungary, Polish highlanders (Górals) and Ashkenazi Jews. It is fast-paced. Triplets are usually emphasised in the melody. The dance is still popular in Romanian traditional music and in Jewish Klezmer music. It was named after the Serbs.
Sardana is a circle dance from Catalonia and national dance from this region. Originally from the Empordà region, it started gaining popularity in Catalonia during the 20th century. There are two main types, the original "sardana curta" (short sardana) and the more modern "sardana llarga" (long sardana), which is more popular. The origin of the sardana is not clear. Modern choreography was established at the end of the 19th century. Dance circle can be opened to a highly variable number of dancers, alternate men and women, with the man's partner on his right. Usually an experienced dancer leads the circle with dancers holding hands - arms down during the curts and raised to shoulder height during the llargs. Traditionally shoes called espardenyes were used for dancing, made of esparto grass fabric, with two long fabric strips to tied up around ankle.
784.SARDINIAN Dancing processions / Italy
SARDINIAN Dancing processions are typical celebrations on the island. Local version of the Carnival are the Mamuthones, pre-Christian traditional masquerades. Twelve Mamuthones in two rows, surrounded by eight Issohadores. Their movement has been defined as a "dancing procession", because of the grave yet musical, rhythmical pace they follow. Mamuthones move slowly, with heavy steps, as if they were chained. Their backs are curved under the weight of the bells, under the coarse vests, under the grimacing masks. Rhythmically, they shake their right shoulder, the left foot advances, bells clang in unison. Issohadores move with agile, deft steps, surrounding the darker figures as if they were hoarding them, guiding them, then confronting them. Their function is complementary - mamuthones do not interact with the crowd, while issohadores skip across the road, catching young women with the soha, the slim reed rope.
785.Sau Sau / Easter Island
Sau Sau is a dance of Samoan origin that came to the island in the 1940s and was modified with Rapa Nui music and lyrics. It represents an amorous story on a boat rocked back and forth by the waves, which is represented by undulating movements of hips and hands, especially by women who wear colourful feathers on their clothes. This has become one of the main Rapa Nui dances, a must in any celebration.
786.Saudi penguin dance / Saudi Arabia
Saudi penguin dance is a dance that became very popular in weddings and among children in Saudi Arabia, despite the country being very conservative. Its popularity one can see in the fact that Saudi Arabia is one of the biggest users of Youtube, so the penguin dance became viral across the platform. Its steps imitate steps of a penguin.
787.SAVELUGU DANCE / Ghana
SAVELUGU DANCE is a dance by a dance group from Savelugu, a village near Tamale in the Northern Region of Ghana.
Saya is an Afro-Bolivian folkloric dance. It can be considered as the product of the fusion of African, Aymara and Spanish elements. The accompaniment of drums and guanchas and the couplets between soloist and choir emerge from the African roots, while the dress adopted by the women resembles the dress of the Aymara women. The song is performed in Spanish.
789.Sayaw Sa Bangko / Philippines
Sayaw Sa Bangko is a famous Pilipino folk dance in which the dancers must use good skill and balance as they dance on top of a narrow bench. This dance dates back to before the Spanish colonisation of the Philippines, which means it is a purely Pilipino Ancestral dance. Dancers showcase their skills as they dance atop a narrow bench, while constantly trading places. As opposed to competing with each other to stay on the bench, dancers must complement each other to ensure that they do not fall. This dance is usually performed in town fiestas.
Schacshas is a dance of Ancash, performed on the occasion of religious festivals, such as the Lord of May in Huaraz, the Virgin of the Assumption in Chacas or the province of Corongo, specifically in the district of Aco. In addition, it has presence in the cones of Lima for the organisation of school competitions, or presentation in centers of shows and celebrations
Schottische is a partnered country dance that apparently originated in Bohemia. It was popular in Victorian era ballrooms as a part of the Bohemian folk-dance craze and left its traces in folk music of countries such as Argentina ("chotis" and "chamamé"), Finland ("jenkka"), France, Italy, Norway ("reinlender"), Portugal and Brazil (xote, chotiça), Spain (chotis), Sweden, Denmark ("schottis"), Mexico (Norteño music), and the United States, among other nations. Its basic step is made up of two sidesteps to the left and right, followed by a turn in four steps. The European version is typically danced to faster music and is quite restrained in its movements. The American one is often large and open, with the first part expressed equally as promenades, individual or led twirls or similar moves, and the second part most often expressed as a close pivot.
792.Schuhplattler / Germany / Austria / Italy
Schuhplattler is a traditional style of folk dance popular in the regions of Bavaria and Tyrol (southern Germany, Austria and the German speaking regions of northern Italy). The performers stomp, clap and strike the soles of their shoes (Schuhe), thighs and knees with their hands held flat (platt). There are more than 150 basic Schuhplattlers, as well as marches and acrobatic feats that are often interspersed with the basic dance in performance. They may be seen today in Europe and in German immigrant communities around the world. While the Schuhplattler is still largely performed by adults, it has become increasingly popular with youngsters, who love its colourful costumes and it is bouncing, leaping, kicking and choreographed horseplay.
Schunkeln is the name in the German language used to describe a certain rhythmic movement to the beat of a song, people link arms and sway side to side on the spot. This is done either standing or sitting were people move side to side on their seats via the upper body. Sometimes people will also move backwards and forwards, as well as stand up sit down movements. This form of dance is popular in German speaking countries at Oktoberfest where Volksmusik and the popular volkstümliche Musik is often played. It is also performed by audience members on TV shows such as "Musikantenstadl".
794.Sean Nos Dance / Ireland
Sean Nos Dance is a form of Irish dancing which originated from western regions of Ireland. It has been described variously as a regional style of step-dancing, and as an entirely separate style that was virtually unknown outside small areas until the late 20th century. It is distinguished by footwork which is percussive but low to the ground in comparison to step dancing, and by its more freeform nature.
795.SEGA / Reunion Island
SEGA is the most famous and performed dance on the Indian Island, such as Madagascar, Mauritius and Reunion Island. It originated from the ritual music of Madagascar and the mainland of Africa, and it is the Musical Expression of the Mauritian Way of Life: Joy and Liveliness. Originally sung by men and women who had been sold as slaves but whose souls had remained sensitive to music, the Sega is nowadays a folksong which has integrated itself within the framework of our folklore. It's a two-person dance, and the woman leads the dance. The man has to follow her movements.
796.SEKSMANNSRIL / Norway
SEKSMANNSRIL translates to 6-man Reel and is a bright, lively 3-couple set dance. As with several other folk dances of similar nature in Norway, it is generally considered to have been an import from Scotland centuries ago, but over the years has acquired a typically Norwegian character.
Semah is a religious ritual folk dance performed by Alevi and Bektaşi communities. Performed by turning and whirling with divine love, the dance is called "turning semah."
SEMBA is a rhythmic form of music and dance from Angola, born in the 20th century at the creative intersection of traditional African dance and colonial European influence. Its characteristic rhythm is one of the main contributors to kizomba music. Semba was played by small bands in Angola at large gatherings. The word "semba" comes from "massemba'" meaning "a touch of the bellies" - one of the most recognisable and entertaining movements in semba. It is a walking based dance. It has a range of tempos, from slow and relaxed to blisteringly fast, but it has an undeniable energy. It can be linear or move around the lead. The hold is similar to a ballroom hold, although leaders lean forward or bend slightly at the waist, and ladies never lean back. Frequently confused with Brazilian samba, since the names are similar.
799.Senile Dance / Global
Senile Dance is a dance performed by people of such an old age you would not expect them to still be able to dance.
800.SENIOR DANCE / Global
SENIOR DANCE is a dance performed by seniors, older people dancing various dance styles, performing mostly typical dances for the region they come from.
801.SENOUFO / Burkina Faso
SENOUFO is a dance from Senoufo people from South West of Burkina Faso
802.Sertanejo universitário / Brazil
Sertanejo universitário is dance style performed to a sertanejo music, the music style that had its origins in the countryside of Brazil in the 1920s. It is the most popular music style in Brazil, particularly throughout the southern/southeastern and center-western countryside Brazil. The dance itself is not very hard to learn and anyone can grasp its basics.
Setapa is a traditional music dance that originates from Bangwaketse tribe of Kanye village and surrounding areas in Botswana. It involves a group of people stamping in to the ground with their feet to the song played or sung by the choir or the group. The word is derived from the Tswana word "Go tapa-tapa", which means "to step into the ground continuously". Setapa troupes involve an equal mix of both men and women dressed up with the skin of animals. The dance troupes wear brown shells in their feet which gives out a perfect sound as they dance and the males usually carry on whistles and heifer horns to produce sound from the stream of air or as they blow into them.
Sevaiattam is a traditional dance performed by villagers in Tamil Nadu, in the southern regions of India. Sevai means service and this dance is performed as a service to God in many temples.
Sevillana is a folk dance from Sevilla and its region in Spain. It is derived from the Seguidilla, an old Castilian folk music and dance genre. In the 19th century it got influenced by Flamenco. It has a relatively limited musical pattern but is rich in lyrics based on country life, virgins, country towns, pilgrimage and love themes. It is danced by couples of all ages and sexes during celebrations (fiestas or ferias), often by whole families and towns. Its choreography is very simple. Thus those intending to dance flamenco usually start by learning sevillana as it is easier to master and there is more occasions for practice and training. Each sevillana is composed of 4 or sometimes 7 parts, with each part divided into 3 coplas and with each copla made up of 6 movements.
SHAKER Dance is a dance coming from The United Society of Believers in Christ's Second Appearing, a community more commonly known as the Shakers. It is a millenarian restorationist Christian sect founded in the 18th century in England. They were initially known as "Shaking Quakers" because of their ecstatic behaviour during worship services. As early as 1747, women assumed leadership roles within the sect. They practice a celibate and communal lifestyle, pacifism, and their model of equality of the sexes. They are also known for their simple living, architecture, and furniture and there controlled dance where men and women distantly perform a square dance.
807.Shaku Shaku / Nigeria
Shaku Shaku is a dance, originating from Nigeria, that involves rhythmic movements of the legs in a side to side leg over fashion while the hand could gyrate in any manner but mostly crossed forward like it's clipped in a handcuff. It was popularised by Nigerian street pop artists such as Slim Case, Small Doctor, Olamide, Idowest, Mr. Real, Obadice and it has taken social media by storm during 2018.
808.Shaman Dances / South Korea
Shaman Dances, unlike the traditional dances in South Korea, they are done for practical reasons. They are preformed by shamans ("mudang") during a ceremony called "kut" in order to expel demons or to get rid of a stubborn bout of bad luck. No mudang will do these dances for free. Sometimes, shaman dances, such as Sulpori, are preformed as a performing art form and to preserve history.
809.Shota / Albania / Kosovo
Shota is an Albanian dance very popular in Albania and Kosovo. It involves synchronised steps, and a strong rhythm. It is commonly played at weddings, folk festivals and other events. Since 2013 it belongs to National Ensemble of Songs and Dances of Kosovo. It is an idyllic dance for a girl and a boy, showing their interest in each other. At first the girl is teasing the boy, then the boy shows as though he is not interested in her, but in the end the boy receives the scarf of the girl, showing her love for him and sometimes the girl receives the scarf of the boy in return. In Albanian the name refers to "dance of the duck". Shota is also often related to the Kosovar female freedom fighter Shota Galicës, wife of the freedom fighter Azem Betem Galicës.
SHOWDANCE can mix together all kinds of different dance styles. Originally traditional show dance seceded from jazz dance and mixed into disco dance, hip hop, ballet, latin dances and afro dance.
811.ShowgirlS DANCE / Global
ShowgirlS DANCE is a dance performed by a showgirl, a female dancer or performer in a stage entertainment show intended to showcase the performer's physical attributes, typically by way of revealing clothing or even topless-ness or nudity. Showgirls are often associated with Latin music and dance, particularly samba.
Shuffle is a rave and club dance that developed in Melbourne, Australia in the early 1990s. Many of the movements used in shuffling are typical jazz dance steps but with a contemporary twist. The style is also influenced by a Chicago based ghetto house dance called footwork and a style called the crip walk that originates in Compton LA. The basic movements in the dance are a fast heel-and-toe action with a style suitable for various types of electronic music. Most variants also incorporate arm movements. Shuffling is for the dance elitists: a light-footed skip-step-jump on the spot, without betraying quite how difficult it is to master. As well as best-of videos, YouTube offers a huge range of how-to lessons for beginners.
Sibhaca is a vigorous dance performed by teams of men throughout the Kingdom of Swaziland. It involves the stomping of the feet in unison accompanied by traditional music and rhythmic traditional chants. The men wear colourful quilts and decorate their legs with mohair implements. A typical Sibhaca session can last up to two or three hours, with a variety of difference rotations, songs and styles performed.
814.Siddhi Dhamal / India
Siddhi Dhamal is an Indian religious dance, performed by the Siddhi community of Gujarat state. The Siddhies (African migrants) had come to India about 750 years ago as slaves. They settled in the coastal part of Gujarat like Bharuch, Bhavanagar, Junagarh and Surat.
Silifke Dances is a dance coming from Crete. Ss its name suggests (Siganos=slow), is a slow dance, conducted almost at a walking pace. The performers clasp each other's shoulders. It has 6 or 8 steps, depending on where it is danced, but the music has an 8-beat rhythm.
816.Silifke Dances / Turkey
Silifke Dances is a dance coming from a South-Anatolian town on the Mediterranean coast, one of the areas of Turkey where the once predominantly nomadic Turkmen were numerous. So called "Teke and Yoruk Turkmens" and their dances are enriched by the vast-history in this region. Dances from this region, Türkmen kizi, Yayla Yollari, Silifkenin Yogurdu and Keklik, depict the daily lives and chores of men and women. Songs depicting nature and daily life accompany almost all of the dances. The most representative dances of this town are the "spoon" dances. These, in general, are mostly spread in the Mediterranean region and thus have a characteristic structure in arrangement, performance, rhythm and melody. The instruments used are the beast bow (later violin), baglama and clarinet.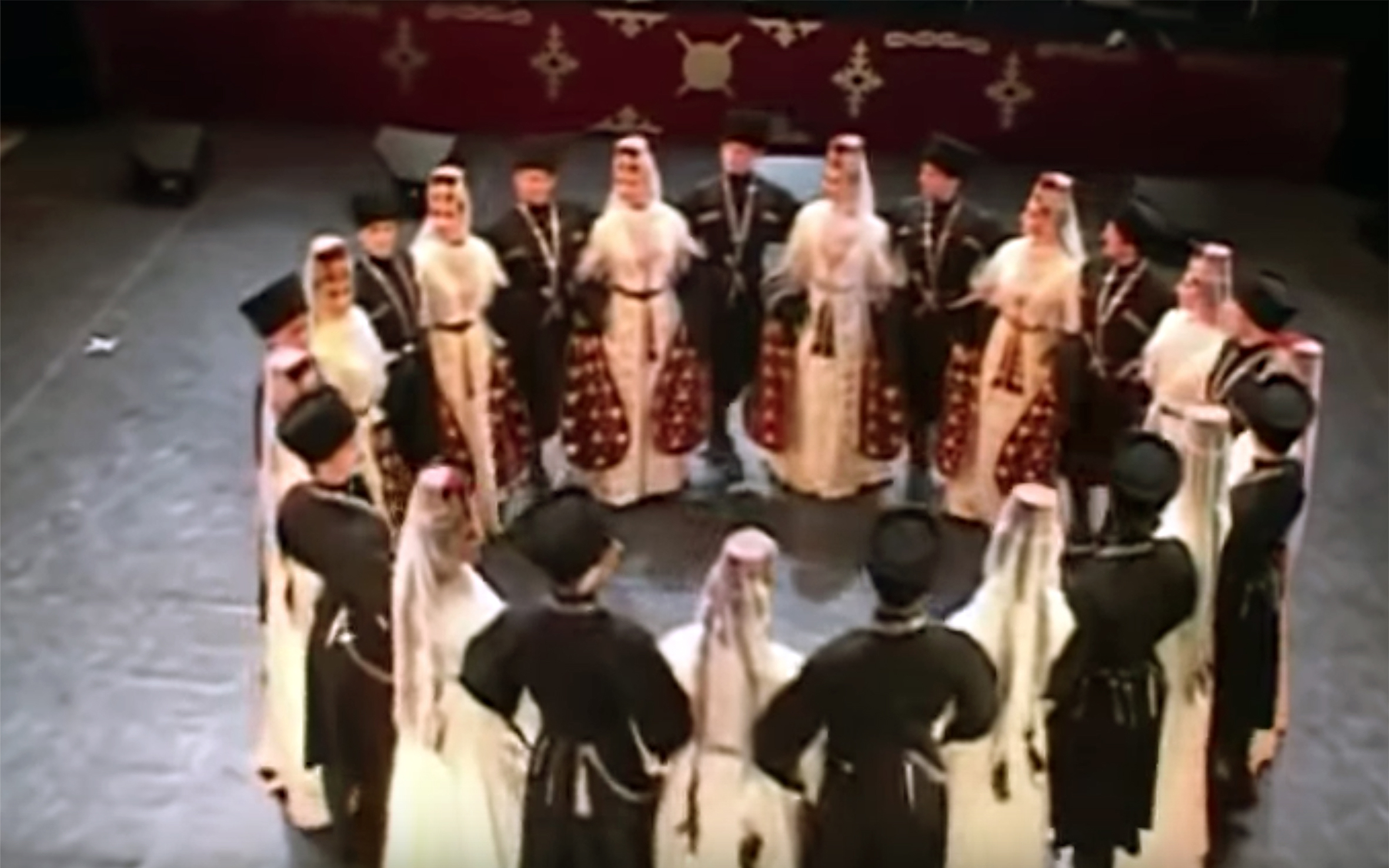 SIMD is an Ossetian folk group dance.Its beauty lays in the strict graphic outline of the dance, the contrast between black and white costumes, the softness of movements, the strictness of line formations, and the harmony created by all of the above.
Sirmpa is a Greek folk dance from Leros. It originated in the Middle Ages as a battle mime with swords performed by the Greek butchers guild, which adopted it from the military of Byzantine era. The meter is 2/4. There are similar folkloric dance tunes known as Hopak in Ukraine.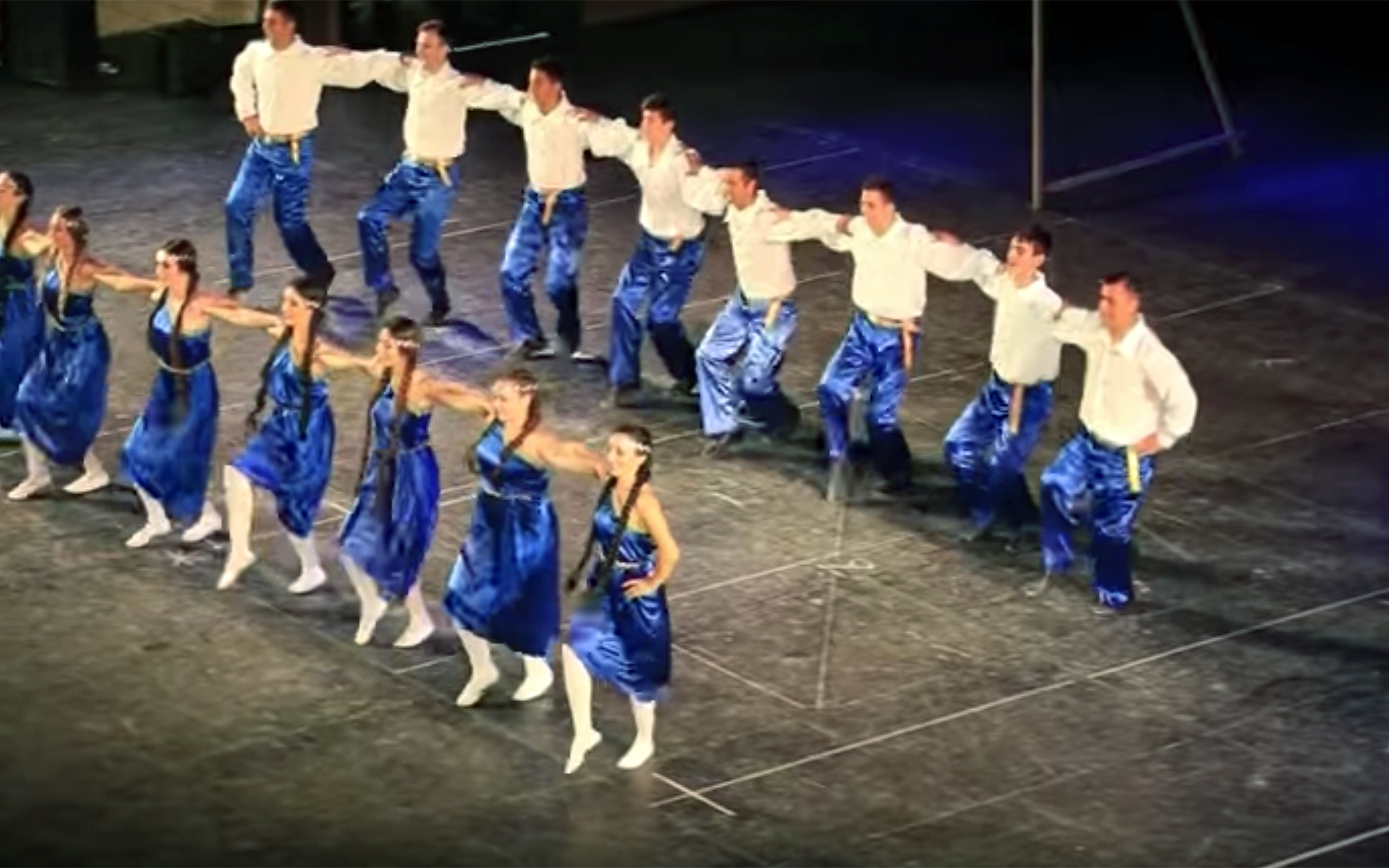 Sirtaki is a popular dance of Greek origin, choreographed by Giorgos Provias for the 1964 film "Zorba the Greek". It is a recent Greek folk dance, and a mixture of the slow and fast rhythms of the hasapiko and hasaposerviko dance respectively. The dance and the accompanying music by Míkis Theodorakis are also called "Zorbá". It is a line or a circle dance, with hands held on neighbours' shoulders. Line formation is more traditional. The name Sirtáki comes from the Greek word "syrtos", which means "to drag" or "to lead the dance".
820.Sirtos / Greece / Cyprus
Sirtos is a group of Greek folk dances, mentioned as a Greek traditional dance form already in ancient Greece. It is also one of the most liked folk dances in Cyprus. It is a line and circle dance, done with the dancers in a curving line holding hands, facing right. The dancer at the right end of the line is the leader. He may also be a solo performer, improvising showy twisting skilful moves as the rest of the line does the basic step. While he does this, the next dancer in line stops dancing and holds him up with a twisted handkerchief linking their hands, so he can turn and not fall down. Sometimes pairs of dancers hold a handkerchief from its two sides. Many regional variations of sirtos exist in the region.
Skanking is a form of dancing practiced in the ska, ska punk, hardcore punk, reggae, jump-up (a drum and bass subgenre) and other music scenes.The dance style originated in the 1950s or 1960s at Jamaican dance halls, where ska music was played. Ska music has a prominent backbeat played by the electric guitar on beats two and four of a 4/4 bar of music. When ska became popular amongst British mods and skinheads of the 1960s, these UK youth adopted these types of dances and altered them.
822. SKIBIDI / Russia / Viral
SKIBIDI is a viral dance challenge which arose from a music video of the same name by Russian band Little Big and which became a dance on Internet in October 2018. The video was released earlier on October 5 and has racked up more than a staggering 20 million views. In the clip information on YouTube, Little Big appealed to fans to: "Join the #skibidichallenge - just film how you dance the skibidi-dance, put the #skibidichallenge hashtag and post it on your YouTube and Instagram." The video has sparked a dance craze of thousands attempting to recreate the moves in the video, which includes cross punching arms and stepping with your toes turned out while lifting your knees towards your body.
Skydancing called also Airdancing is a dance performed in the sky. A tube man, also known as a skydancer, air dancer, and originally called the Tall Boy, is an inflatable moving advertising product comprising a long fabric tube (with two or more outlets), which is attached to and powered by an electrical fan. As the electrical fan blows air through the fabric tube, this causes the tube to move about in a dynamic dancing or flailing motion.
SLÄNGPOLSKA is a Swedish folk dance, sometimes also the description of certain folk music tunes. There are two types of slängpolska. First one is for two or four people dance, and it is one of the sixteenth-note versions of the polska. It consists of two basic set positions: one in which the couple is spinning around one another while holding crossed hands outstretched with centrifugal force, the other in which the couple is spinning around one another in a closer position while holding the partner's shoulders and arms. In the second type of slängpolska couples move counterclockwise around the periphery of the room and choose to do so with or without rotation clockwise around an internal axis, one full rotation for each measure. The music and dances in this category share a high tempo.
825.SMÅ GRODORNA / Sweden
SMÅ GRODORNA (Swedish for "The Little Frogs") is a traditional Swedish dance and a song traditionally performed at midsummer, with participants dancing around the maypole. It involves movements that illustrate body parts that frogs lack - ears and tails. Occasionally, it is also sung at Christmas, but instead of dancing around the maypole, Swedes dance around the Christmas tree. The melody originates from the refrain of a military march from the French Revolution "La Chanson de l'Oignon". It is unknown how the melody ended up in Sweden, but the Swedish lyrics are clearly inspired by the English version. Although the song is not often performed outside Sweden, hundreds of examples of people singing and dancing SMÅ GRODORNA have been uploaded to YouTube and the performance groups range in size from backyard family parties to multiple thousands gathered in fields and public parks.
826.Sneang Tosoang / Cambodia
Sneang Tosoang is a dance coming from Cambodia. It is a dance around a tiger, a peacock, a deer, and other animals. It originates in Phnum Kravanh District, Pursat Province.
SNOA is a Swedish folk dance. Its name comes from the Swedish word which means "to turn" or "to rotate". The name was first used in 20th century, but the dance itself has been danced for much longer time. It used to be danced from the beginning to a regular polka music. First in the 1970s a unique way of playing for this dance was developed. The tempo is between schottis and polka , is more even and has a more "rolling" 2/4 beat. Snoa is a couple dance that involves a simple pivot-spin step in 4/4 duple-meter time. It is related to the Norwegian rull dance, which is often in a 2/4 meter.
228.SOCA / Trinidad and Tobago / Guyana / Venezuela
SOCA is a modern variant of the calypso music and dance, but with a faster rhythm. Its name comes from the fusion of the first syllables of the words "soul" and "calypso" (so-ca). It combines the danceable melody of the calypso with persistent percussion, which is usually electronic. The rhythm incorporates the indigenous musical traditions of the ethnic groups of the East of the Anglophone Caribbean, and in turn, the Indian rhythms and the percussion of the calypso. In this genre it is possible to find African, Trinitarian and even European influences. Its history begins in the decades of the sixties and seventies of the twentieth century. Its roots are in Trinidad and Tobago, and in the African sounds of Guyana.
829.Social Dance / Global
Social Dance is a category of dances that have a social function and context. Social dances are generally intended for participation rather than performance and can be led and followed with relative ease. They are often danced merely to socialise and for entertainment, though they may have ceremonial, competitive and erotic functions. Many social dances of European origin are partner dances but this is quite rare elsewhere, where there may instead be circle dances or line dances, perhaps reserved for those of a certain age, gender or social position.
830.Social Shake / China / Viral
Social Shake is a form of dancing that became a cultural phenomenon in China and got viral on Weibo - the Chinese version of Twitter with more than 150million hits. The name sounds like someone ran the concept of Harlem Shake through China's famous communist propaganda machine. Social Shake was born as a familiar combination of head-bobbing, knee-swaying and hip-thrusting. It is not a dance routine, it is about moving to the music. Paipaiqi and Er Qiang Dance are the most popular performers of the dance on video-sharing platform Kuaishou with over 26 million followers. On October 30, 2014, it successfully applied for Guinness's The Largest Online Homemade Dance Video Collection. Social Shake became a form of Chinese street culture.
Son Cubano is a genre of music and dance that originated in the highlands of eastern Cuba during the late 19th century. It is a syncretic genre that blends elements of Spanish and African origin. Among its fundamental Hispanic components are the vocal style, lyrical metre and the primacy of the tres, derived from the Spanish guitar. On the other hand, its characteristic clave rhythm, call and response structure and percussion section (bongo, maracas, etc.) are all rooted in traditions of Bantu origin.
832.Sousta / Greece / Cyprus
Sousta is the name of a folk dance in Cyprus and Crete which is danced in Greece and generally in the Balkans. The music is generally played with a lyre or a violin, and a mandolin.There are elements of eroticism and courtship acted out in the dance, which is usually performed by pairs of men and women dancing opposite. Partners face each other, which also contains many elements of the old war-dance, the phyrrikos. Danced by men and women, alternating and arranged at first in a semicircle; after a while the separate off into couples. Another form is where all the dancers in a row follow the first dancer who moves in complex patterns. Almost every island of Aegean has a sousta dance. The origins of sousta come from the ancient pyrrhichios, a martial dance of Greece.
833.SQUARE DANCE / USA / Global
SQUARE DANCE is a dance for four couples (eight dancers in total) arranged in a square, with one couple on each side, facing the middle of the square. Square dances were first documented in 16th-century England but were also quite common in France and throughout Europe. They came to North America with the European settlers and have undergone considerable development there. In some countries and regions, through preservation and repetition, square dances have attained the status of a folk dance. The Western American square dance may be the most widely known form worldwide, possibly due to its association in the 20th century with the romanticised image of the American cowboy. Square dancing is, therefore, strongly associated with the United States. Nineteen US states have designated it as their official state dance.
834.Square dancing / China
Square dancing is an exercise routine, performed to music in squares, plazas or in parks in the People's Republic of China. It is popular with middle-aged and retired women who were called "dancing grannies" in the English-language media. They dance to a variety of music, mostly Chinese popular songs, both contemporary and historic. Square dancing began in the mid-1990s, as middle-aged women, forced into retirement, began dancing to keep themselves occupied. The groups gather in the early morning and evening, any time of year, at parks or public squares, or anywhere they can find enough space. Dancers organise themselves into rank and file. The front rank comprises the most proficient dancers, the best being in the center. All the dancers face forward. Apparel varies greatly. More advanced groups sometimes wear costumes and use props.
STAMBALI is a traditional religious trance ceremony coming from Tunisia, as well as healing and demon exorcism ritual. It is a ritual music and a cult of possession that draw origins of the African presence slaves and descendants of black slaves which mingled local beliefs related to the cults of the saints in popular Islam (wali).
Step Dance is a dance from Canada, inspired by the step dances of immigrants from French, Scotland, and Ireland. Canada boasts its own unique style of step dancing, with dancers traditionally making fast, complicated feet-focused moves, usually accompanied by fiddle music.
Step Dance is a style of performance dance with its roots in traditional Irish dance. It is generally characterised by a stiff upper body and quick and precise movements of the feet. It can be performed solo or in groups. Beside public performances, there are also stepdance competitions all over the world. These competitions are often called Feis. In Irish dance culture, a Feis is a traditional Gaelic arts and culture festival. Costumes are considered important for stage presence. Males and females can both perform Irish stepdance, but the dance remains predominantly female. Thus costumes are mainly dresses. Both traditional and more modern competitive styles are characterised by the use of specific shoes and by costumes that can be remarkably elaborate. Irish stepdance is the only form of step dance on Broadway.
STICKDANCE called also Tikkuristi is a Finnish folk dance, danced on crossed sticks with speeding tempo. It is based on French dance from 15th century. It is also some sort of competitive dance. The competitor who manages to dance longest without stumbling into the sticks, is a winner.
Stick Dance was a dance style that African-Americans developed on American plantations during the slavery era, where dancing was used to practice "secret military drills" among the slaves, where the stick used in the dance was in fact a disguised weapon. To add to the dance element of the practice, other slaves would gather around the competitive fighters. They would clap in rhythm, and sing in a call-and-response style, while one caller led the rest of the crowd. Stick dance appears in many cultures around the world.
840.Stiletto dance / Global
Stiletto dance called also Heel Dance is a dance form that emerged and evolved in the United States and Europe in the late 20th and early 21st centuries. It is named after the stiletto heel women's shoe style, since one of its distinguishing features is the wearing of high-heel shoes during performance. It is a solo dance genre inspired by dance routines seen in pop and hip-hop music videos. Its techniques and dance vocabulary derive from a wide range of dance styles used in music video-style choreographies. It is characterized by dynamic footwork based on jazz dance, ballroom dance, Latin dance and go-go dancing styles, torso isolations borrowed from belly dance and hip hop dance and floor work, fluid arm work and body language coming from exotic dancing and contemporary dance.
STILT DANCE is a dance performed by people on stilts that are poles, posts or pillars used to allow a person or structure to stand at a height above the ground. Stilts for walking are poles equipped with platforms for the feet to stand on and can be used, depending on the design, with straps to attach them to the user's legs or be held in place by the hands of the user. Stilts are used widely in many countries for the purpose of entertainment. Stilt dancers perform their skills in parades, festivals, street events and at corporate functions. Stilt dance is present in many cultures around the world. For example in Ivory Coast stilt dance is a part of rituals that are designed to protect the village and performed at celebrations, weddings and funerals.
842.Strathspey / Scotland
Strathspey is a dance named after the Strathspey region of Scotland, in Moray and Badenoch and Strathspey. It refers both to the type of tune and to the type of dance usually done to it. It is also one of the dance types in Scottish country dancing. A Scottish country dance will typically consist of equal numbers of strathspeys, jigs and reels. Strathspey step is a slower and more stately version of the skip-change step used for jigs and reels. It also forms part of the musical format for competing pipe bands.
843.street dance / USA / Global
street dance is a dance style that evolved outside dance studios in any available open space such as streets, dance parties, block parties, parks, school yards, raves, and nightclubs. The term is used to describe vernacular dances in urban context. Vernacular dances are often improvisational and social in nature, encouraging interaction and contact with spectators and other dancers. These dances are a part of the vernacular culture of the geographical area that they come from. Examples of Street Dance include b-boying (or breakdancing), hiphop, swaggers which originated in New York City. Usually based on battle dance happening in the street. Street Dances becomes popular in many countries. For example Bhutanese youth is interested in Street Dance, Freestyle dance and Hiphop as a form to break with the strong traditions and hierarchical society that still prevail in the country. Street performances and dance festivals are now very popular amongst Bhutanese youth.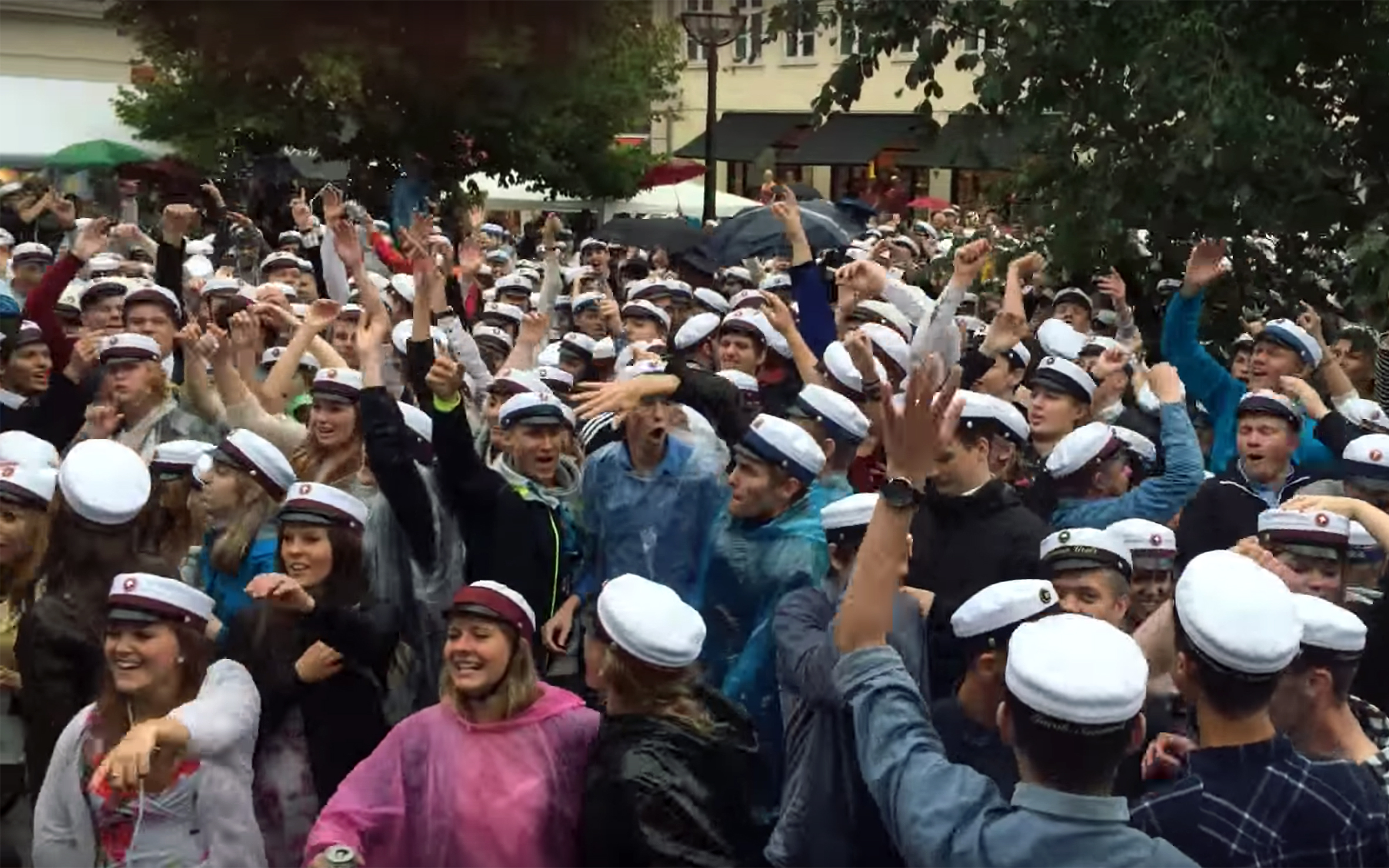 844.Studenternes Dans / Denmark
Studenternes Dans is danced by graduate students of gymnasiums in Denmark. When they graduate, each of them wears a cap with different badges and hatbands, depending on the type of study they completed. On graduation day, each class of gymnasium students will do their caps and drive around on the back of a truck. This joy ride begins in the morning and the truck travels around to each of the students' homes, where the graduates have drinks and sometimes eat snacks, before moving on to the next house. In some cities, such graduate parties include group dances on the city's largest square.
845.Sufi whirling / Turkey / Egypt / Global
Sufi whirling is a form of physically active meditation which originated among Sufis, and which is still practiced by the Sufi Dervishes of the Mevlevi order from Koyna in Turkey and other orders. It is a customary meditation practice performed within the Sema, or worship ceremony, through which dervishes aim to reach the source of all perfection. This is sought through abandoning one's nafs, egos or personal desires, by listening to the music, focusing on God, and spinning one's body in repetitive circles, which has been seen as a symbolic imitation of planets in the Solar System orbiting the sun. The Mevlevi practice gave rise to an Egyptian form, tanoura, distinguished by the use of a multicoloured skirt. This has also developed into a performance dance by non-Sufis, including dancers outside the Islamic world.
SUNGURA is a dance performed to the local music from Zimbabwe with the same name that became popular in the early 1980s, pioneered by frontman Ephraim Joe and his band Sungura Boys. With large number of their successful natural successors, sungura bands and dance is popular till today.
SUNU is a rhythm from the Kassouke people from the Kayes region in Mali. It is played as competition-dance-rhythm for young men. It's a popular rhythm dating from the pre-colonial era. In that period once lived a pretty girl called Sounou Mamady in the village Sagabari. She was known for her dancing qualities and participated on any dance festival that was organized. The rhythm is made by the Djembéfola from her village honouring her. The dance is presented after a good harvest. The girls can practice their grace, beauty and sometimes seduction. For the young men it is an opportunity to show their strength and vitality while making all sorts of acrobatic jumps.
SWING dance is a group of dances developed with the swing style of jazz music in the 1920s–1940s, with the origins of each dance predating the popular "swing era", when there were hundreds of swing styles. Those that survived are: Lindy Hop, Balboa, Collegiate Shag, and Charleston. Today, the most well-known is the Lindy Hop, originated in Harlem in the early 1930s. While the majority of swing dances began in African American communities as vernacular African American dances, some swing era dances, like Balboa, developed outside of these communities. The term Swing dance was not commonly used until the latter half of the 20th century. Swing popularity continues till today and swing moves are the foundation of many dances including disco, country line dancing, and hip hop. Swing dancing clubs and contests are held around the world.
849.SwinG Criollo / Costa Rica
SwinG Criollo is a dance style from Costa Rica, based on cumbia songs. Over the past ten years, the Costa Rican it has gone from relative obscurity to acceptance as national heritage. In the 1970s and 1980s, it was considered a dance of the urban working-class chusma, or "riff-raff," because of its associations with the working-class music of cumbia and San José's seedy dance salons. Starting in the early 2000s, however, an active campaign of nationalisation and folklorization by dance instructors brought the dance to the status of national patrimony. This was achieved through dance classes, festival performances, the creation of a short video documentary, and the work of the dance company La Cuna del Swing to canonise the dancers and stages of swing criollo.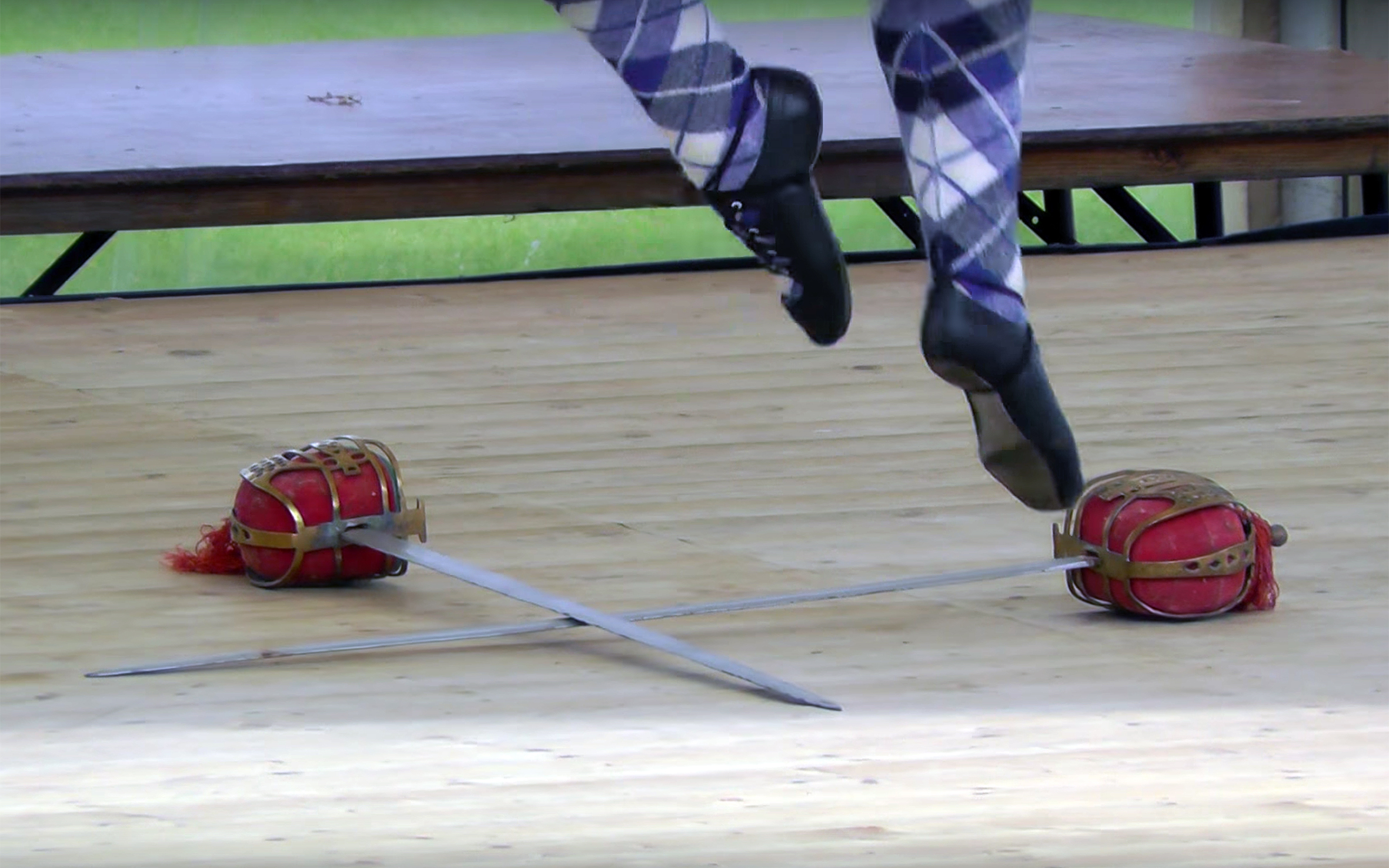 850.Sword Dance / Scotland
Sword Dance is an important part of Scottish folklore and it is recorded from as early as the 15th century. It is normally recognised as the war dance with some ceremonial sense in the Scottish Royal court during that period. The old kings and clan chiefs organised the Highland Games as a method to choose their best men at arms, and the discipline required to perform the Highland dances allowed men to demonstrate their strength, stamina, and agility. The earliest reference also mentioned that the dance is often accompanied by the music of bagpipes. The basic rule requires the dancer to cross two swords on the ground in an "X" shape and to dance around and within the 4 quarters of it.
851.Synchronised dancing / Global
Synchronised dancing is done by groups of people simultaneously. The dances are generally, but not always, coordinated or standardised in such a way that all the individuals in the group are dancing the same steps at the same time. Alternatively, various groups within the larger group may be dancing different, but complementary, parts of the larger dance.
852.Synchronised Swimming Dance / Global
Synchronised Swimming Dance is a hybrid form of swimming, dance, and gymnastics, consisting of swimmers performing a synchronised routine (either solo, duet, mixed duet, free team, free combination, and highlight) of elaborate moves in the water, accompanied by music. Synchronised swimming dance demands advanced water skills, requires great strength, endurance, flexibility, grace, artistry and precise timing, as well as exceptional breath control when upside down underwater. During routines swimmers may not touch the bottom of the pool.