649.OBAMWAM / Benin / Nigeria
OBAMWAM is a traditional mix dance from people from Nigeria and Benin that share the same traditions.
Oberek is a lively Polish folk dance and the fastest of the Five National Dances of Poland. Its name is derived from Polish word "obracać się" - "to spin". It consists of quick steps, constant turns, lifts and jumps. It is characterised by a three-measure metre, mazurka-like rhythmic, fast tempo, whirling and a significant degree of improvisation. Known under many names almost in the entire Poland, it remains one of the most popular traditional dances in the country. Danced by large groups of dancers, in very small steps with pairs whirling evenly and flatly in place or around a circle, to four sides, it is fashioned after the country dances of the Mazovia region, as remodelled by the upper classes in the 19th century, and subsequently adapted for stage and ballrooms, fitted to the requirements of the national ideology.
Obatala DANCE is one of the Orisha dances. Obatala is a creator and ruler of all human heads and the father of all (or most) Orishas, depending on the tradition. Dressed all in white, it is one of the most powerful Orishas. Obatala's dance mimics the movements of an old man, but it is also powerful warrior dance.
652.OCCIDENTALI'S KARMA / Italy / Viral
OCCIDENTALI'S KARMA is a song performed by Italian singer Francesco Gabbani. The song was released as a digital download on 10 February 2017. It also won the Sanremo Music Festival 2017 and represented Italy in the Eurovision Song Contest 2017. Later Francesco Gabbani has released a short tutorial on how to dance like him during "Occidentali's Karma" and The signature 'Gorilla Dance' has become a huge hit with in Italy as well as it went viral.
653.Odi Dance Challenge / Kenya
Odi Dance Challenge is a dance track created by a Kenyan gospel dance group from Kibera. It is a celebration of how Christian dance has infiltrated the Kenyan society. This dance challenge became very popular and new videos with Odi dance started to pop up on Internet.
654.Olaš DANCE / Slovakia / Czech Republic
Olaš DANCE is a dance performed by Olaš Gypsies, who are one of the branches of the Gypsy nation in Slovakia and who also live in the Czech Republic. They are a closed community with distinctive culture, they speak exclusively Gypsy language and the family is a key for them. Women wear long, wide coloured skirts, three-pointed scarves on their heads or shoulders and heels. The hair is usually worn in a scabbard or entangled. Their make up is coloured and significant. Men do not wear short pants. They are dressed in expensive brand shoes and also wear distinctive jewellery - gold rings, earrings, necklaces, bracelets and gold teeth. They dance on songs without of musical instruments. Songs are usually very fast. During dancing they drum, bang, clap and applaud to the rhythm by their hands.
OLUKUN is a spiritual dance from Benin. The spirit is highly praised for his/her ability to give great wealth, health and prosperity to his/her followers. Communities in both West Africa and the African diaspora view Olokun variously as female, male, or androgynous.
656.Om Telolet Om / Indonesia / Viral
Om Telolet Om was a popular social media meme of 2016. The term originates from Indonesia where it is a popular trend to get the customised bus horns to honk their horns for the enjoyment of others. The phrase refers to children encouraging a truck or bus driver to honk. The phrase found its way online in December of 2016 when popular EDM musicians began to respond to the spam they received, reaching a large and diverse audience in the process. Many non-Indonesians were confused. While many others joined in the trend of spamming the term leading further to its popularity. After the hashtag went viral on Twitter, various international DJs created tracks making use of truck sounds and children laughing. Dance videos became popular on Instagram and Youtube with moves inspired by hitchhiking, driving, and waving at trucks.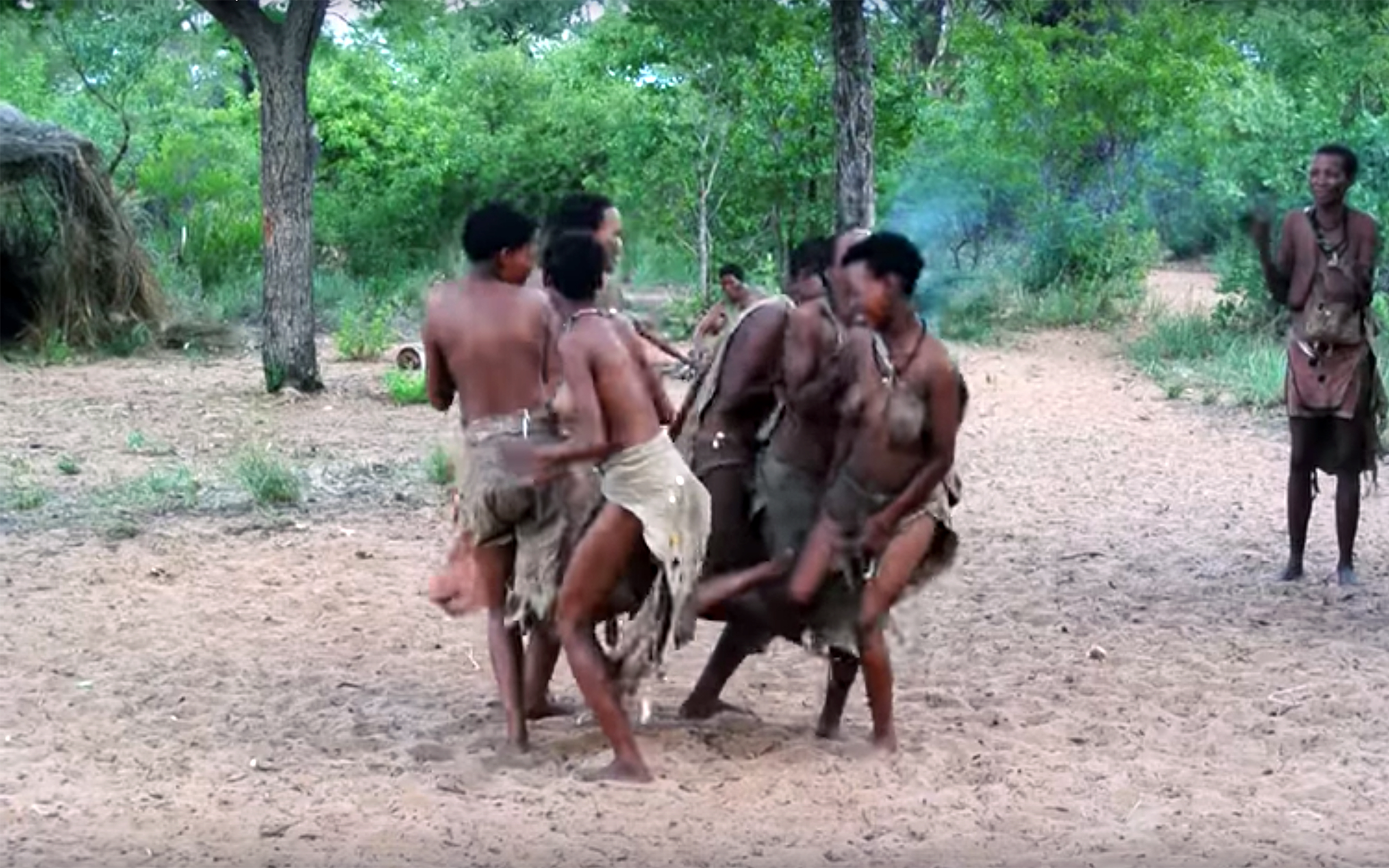 Ondjongo is a dance performed among the Ovazemba and Ovahimba communities in Namibia at any social celebration. It involves both men and women, songs are also known as "ondjongo". The Ondjongo dance forms the climax of Himba marriage ceremonies. In this classic courting dance the participants assume the roles of oxen and herders, with a view to figuratively hunting down prospective partners. Standing in a semicircle facing a line of men, the women clap and chant, while one of them dances in the centre in the manner of a favourite cow. With her arms raised to imitate horns, the woman stamps her feet as though they were hooves and struts in time to the clapping. When the next dancer cuts in, she leaves the centre, flipping up her back-skirt in a defiant flirtatious manner.
658.ONE CORNER DANCE / Ghana
ONE CORNER DANCE is a cultural phenomenon that initially started in Ghana. Patapaa's song and video "One Corner" originated from Swedru in the central region of Ghana, a predominantly working-class town where most people work in farming. "One Corner" is a genuine expression of radical self love and an uninhibited outlet of emotions for people who have to endure protracted economic and political violence on a daily basis. It is said to have its origin from the university or Katanga Hall of the Kwame Nkrumah University of Science and Technology. It has spread all around West Africa with even celebrities and other folks posting videos of themselves basically just humping whatever corner they can find to various songs.
Oppana is a popular form of social entertainment among the Mappila (Kerala Muslims) community of Kerala, South India, prevalent throughout Kerala, especially in Malappuram. It is performed by about fifteen females, including musicians, at weddings. The bride dressed in all finery, covered with gold ornaments and her palms and feet adorned with an intricately woven pattern of henna, sits amidst the circle of dancers. She is the chief spectator sitting on a chair, around which the singing and dancing take place. While they sing, they clap their hands rhythmically and move around, the bride using simple steps. Two or three girls begin the songs and the rest join in chorus. Sometimes Oppana is also performed by males to entertain the bridegroom. Harmonium, tabla, ganjira and elathaalam are the musical instruments employed for this performance.
ORISHA DANCE is a religious manifestation of The Regla de Ocha and are traditionally performed with Batá drums. Dance is crucial to understand Orisha in Yorùbáland and the diaspora. For centuries the body was a place of Black resistance in the colonies. By practicing Orisha dance this information gets into our minds, hearts and souls. Today every Cuban is used to watch sacred Yorùbá dances, that in the past were known only to a marginalised part of the society. In the setting of a ritual, the Yorùbá deities called Orisha are invited to mount their initiates' bodies. The standard repertoire of Orisha dances went through a process of folklorization, initiated by the Communist Revolution. The African heritage was studied and reshaped to be displayed on stage and integrated into the education system.
OROKO is a traditional dance from people of Oroko from South West Cameroon It is a simple and easy to learn dance. It involves much shaking of the back, shoulders and hands, loin cloths must be tied around the waist, dancers also mask or paint their bodies with different colours and it is a dance with slow-to-fast rhythms. Often, rhythm of the dance starts slowly and after a while reaches a climax. Oroko performers consists of two groups: those who play the instruments/drums and the dancers. There are different types or forms of Oroko (Denyangi, Ngoba, Njoku etc), and certain characteristics that make the dance generally unique, for example in the Njoku version of Oroko dance, dancers mimic the structure of an elephant and its behaviour.
662.Oromo Dances / Ethiopia
Oromo Dances are the dances orginating from the one of the nine ethnically based regional states of Ethiopia, called Oromo. It is the largest region with dance styles very different from other places. Some of famous dances are Shoa Oromo and Halar Oromo. Especially, Shoa Oromo dance has unique costume as well as steps. Women wear leather-made wild two-piece costume decorated with shells. Men wear fur skin like lion's mane on the head and use stick for dance. The most surprising is women's very fast and sharp neck motion.
Otemoyan is a Japanese folk song from Kumamoto Prefecture. It is played by mass performers dancing in the streets of Kumamoto in the summer. It is usually accompanied by shamisen, taiko drums and other percussion, and the Japanese used has a southern Kumamoto accent. Originally, it was a song played during drinking parties with geisha girls. Several hypotheses have been formulated on the origin of the name and the most creditable one among them is that Otemoyan was a girl named Tominaga (1868-1935) who really lived near the present Kumamoto Station. The writer/composer was Ine Nagata, a teacher of Shamisen and Japanese dances. This song made a debut by Akasaka Koume in 1935. The oldest reference of this song is in 5 Pairs of Shoes, a book published in 1907.
OUDJILA is a traditional dance from far North of Cameroon.
OYA DANCE is one of the Orisha dances. Oya is a female warrior Orisha who lords over the cemetery, lightning and the winds of change. She rides into battle with her favourite lover Chango (that's why fire and lightning are always together). Channel Oya and discover the strength of your inner feminine spirit. Swing that iruke, screech and summon some nifty hurricanes while dancing.
Oyilattam (meaning: dance of grace) is a folk dance with origins in the Madurai region of Tamil Nadu in India. It was traditionally a dance where a few men would stand in a row with two pieces of cloth, performing rhythmic steps to musical accompaniment. Over the past ten years women have also started performing this dance. Typically, the musical accompaniment is the Thavil and the performers have coloured handkerchiefs tied to their fingers and wear ankle bells. Oyilattam is performed at village festivals. It describes great epics of India like Ramayana and Mahabharata.
Oyil Kummi is performed by large groups of men wearing bells on their feet and narrating mythological stories. The invocation song prays to gods and also instructs the participants to give adequate space for the movement of the performers' legs and to prevent them coming into physical contact. No other musical instruments are used in this dance. Oyil Kummi is performed by men only, during temple festivals. Stories and episodes focusing on Murugan and Valli are depicted in the songs. It is one of the rare folk art forms of ancient Tamil Nadu, India.