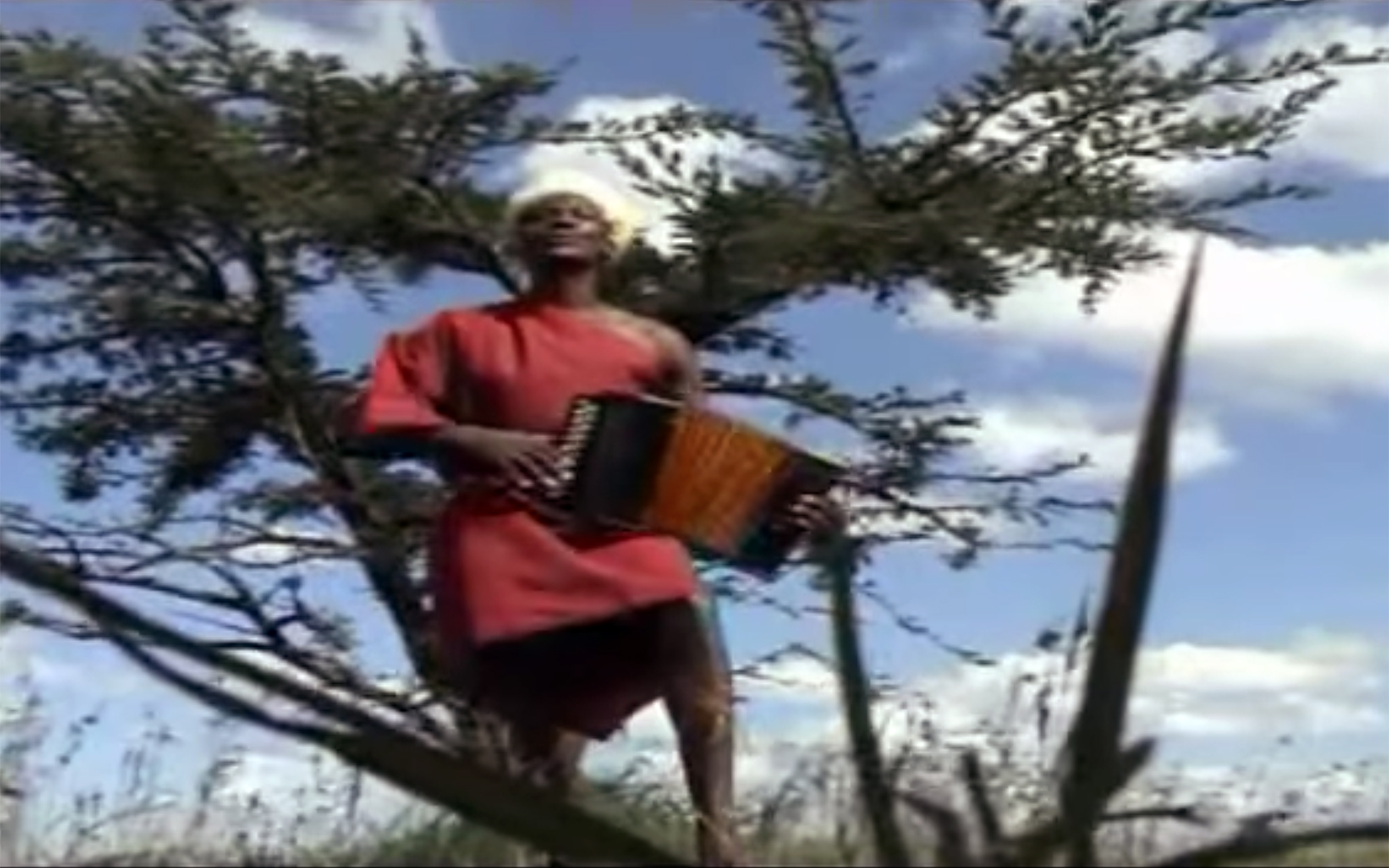 Namastap is a colourful dance in Namibia, religiously performed by women donned in multi-coloured dresses made from different pieces of cloth, worn-out veldskoene with ankle-size socks, strutting graciously on the arm of an often wrinkled suitor. A suitor who would dance up a dust cloud, twirling, scuffling with size four veldskoene, kicking to the size just before he would resume this dance of affection around his partner. People would slide step past each other and step in one place as they dance. Namastap is an important symbol to the Nama identity and is performed during social gatherings.
Ndlamo is a dance similar to Indlamu, traditional Zulu dance from South Africa, where the dancer lifts one foot over his head and brings it down hard, landing squarely on the downbeat.
Ndombolo is a Congolese music genre and dance style, also popular in other African countries such as Kenya and Madagascar, that derived from the kwassa kwassa, a music/dance subgenre of Soukous. Soukous mean "to shake" in French and it is derived from the Congolese rumba which gained popularity in France in the 1980s. It is considered to be quite a sexual dance since it mostly involves hip thrusts and movements. This hip-swinging dance to the fast pace of soukous ndombolo has come under criticism on claims that it is obscene. There have been attempts to ban it in Mali, Cameroon and Kenya. After an attempt to ban it from state radio and television in the Democratic Republic of the Congo in 2000, it became even more popular.
NDREZZATA is a dance coming from Buonopane, a part of the commune of Barano d'Ischia, on the island of Ischia. Its name comes from the word "intrecciata", meaning "braid". Migrants to the Americas brought this dance to New York, where it was done on the streets in 1916 and 1917, and later in Buenos Aires in 1924. In its classic form, it has 16 dancers, with men and women taking an equal part in the dance, accompanied by drum, flute, and singing. The men carry a small stick in their right hand and a wooden sword in the left, the women reverse this. The dance has two parts, with seven tableaus in each part, and consists of a crossing and interlacing of blows of the sticks and swords.
636.Negrillos DANCE / Peru
Negrillos DANCE is a Peruvian folk dance which represents the blacks who after the abolition of slavery began to become independent doing work, since they knew how to work in agriculture, livestock, fishing and the sale of bread products. Free blacks had on their heads a cup-shaped basket containing products for sale. This style of transportation they learned from their ancestors, who taught them to carry all their loads on their heads. The dance is performed in the parties of Coporaque and Madrigal, the Festivity of Santiago, Feast of Santa Ana.
637.Nepalese boys dancing / Qatar
Nepalese boys dancing present dances performed by Nepalese boys living in Qatar. Qatar became famous for holding the FIFA World cup 2022, but it also became controversial due its policies of recruiting people to build the stadiums where the worldcup will be held. Most of construction workforce comes from Nepal. These Nepalese boys dancing give an insight into cultural transformations taking place in the Middle East and its challenges.
638.Nestinarstvo / Bulgaria
Nestinarstvo is a fire ritual originally performed in several Bulgarian villages in the Strandzha Mountains close to the Black Sea coast in the very southeast of Bulgaria. It involves a barefoot dance on smouldering embers performed by nestinari. It is usually performed on the square of the village in front of the whole population on the day of Saint Constantine and Saint Helen or on the day of the saint patron of the village. The ritual is a unique mixture of Eastern Orthodox beliefs and older pagan traditions from the Strandzha Mountains.
NGI a traditional dance from North West Cameroon
640.NGOSSO Whale / Cameroon
NGOSSO Whale is a traditional dance from South West Cameroon
NGOZE is a ritual from Gabon, in Central Africa. It lasts three consecutive nights: Efun - the beginning - birth, Nkeng - the nucleus - the death, Meyaya - the rebirth. In some chapels, the first night is split in Efun Bègn, Wednesday evening, where the ngoze is organised and where only the musical bow (Bè or Bègn, the instrument before creation) plays. On Thursday, there is Efun Ngoma, where the zither (Ngoma) plays alone. The ritual is repeated each night with few changes, related to the specificity of each night. There are also dances involved.
Nifara is the Mauritaian flute which is a musical instrument close to the people's hearts in Mauritania. Dancing to it is popular amongst young Mauritanians, the dancers use their skills to match it's melodies and dance expressively in a theatrical style. As the enthusiasm in the audience grows, they ululate and clap.
643.Nightlife: Circuit Parties, Clubs, Drag / Global
Nightlife has long been an escape for queer people, a place where costumes, music, drugs, escape and freedom reign. Included in nightlife culture is the "Club Kid" culture that started in the early 80s and is still prevalent today which houses a large majority of queer and trans folks. In nightlife culture we also find circuit parties, where majority gay and bisexual men frequent for both dancing and hooking up, techno parties that house many queer folks and gender non-conforming, gender expansive and trans folks, as well as Drag culture housing parties, performances, and competitions. Drag is integral to LGBTQ communities for its radical queering of gender and gender norms which have held so many to toxic ideas of masculinity and femininity and have played a big part in the marginalisation of the LGBTQ community.
644. NIUEAN TRADITIONAL DANCE / Niue
NIUEAN TRADITIONAL DANCE comes from the Niue Island, small island in the South Pacific Ocean, one of the world's largest coral islands and smallest self-governing states. The culture and tradition of Niue is rich in music, with many traditional songs sung without musical accompaniment. Traditional dances and songs are featured at important events such as weddings and official ceremonies. The only instrument that is used for traditional dances is a wooden drum known in Niuean as palau or nafa, made out of a carved trunk of the selie tree. The use of the instrument is mainly to provide a beat for the dances. The dance of celebration – for the opening of a new building, wedding, or birthday – known as the tame – is accompanied by singing with guitars, ukuleles and sometimes a musical keyboard.
Non-dance is a choreographic movement within contemporary dance. It began in the 1990, principally in France. Its practitioners see it as a transdisciplinary movement, dispensing with the movement vocabulary of traditional dance to integrate or substitute that of other performing arts (theatre, video, lectures, music, etc.), and even plastic arts. The most famous activator of the non-dance genre is Jérôme Bel, French dancer and choreographer, whose characteristic choreographic style is known as non-dance, typified by his 2001 piece The Show Must Go On.
646.Northern Soul / England
Northern Soul is a music and dance movement that emerged in Northern England in the late 1960s from the British mod scene, based on a particular style of black American soul music, especially in the mid-1960s, with a heavy beat and fast tempo. As the favoured beat became more uptempo and frantic in the early 1970s, northern soul dancing became more athletic, somewhat resembling the later dance styles of disco and break dancing.
647.Nubian dancing / Egypt / Sudan
Nubian dancing is an upbeat and free spirited celebration of love, laughter and life. It is dance and music of one of Africa's oldest and most beautiful civilisations, by Nubian people coming from the very south of Egypt and northern Sudan. With a history and traditions which can be traced to the dawn of civilisation, the Nubian first settled along the banks of the Nile near Aswan, Egypt. Along the great river Nile they developed one of the oldest and greatest civilisations in Africa, with a history spanning back to 5000 BC. They have their own style of celebrations where the dance plays important role.
NYAU DANCE is traditional dance by the Nyau, a secret society of the Chewa, an ethnic group of the Bantu peoples from Central and Southern Africa. The society consists of initiated members of the Chewa and Nyanja people, forming the cosmology or indigenous religion. Initiations are separate for men and for women, with different knowledge learned and with different ritual roles in the society according to gender and seniority. Only initiates are considered to be mature and members of the Nyau. The word Nyau is also used to describe the indigenous religious beliefs or cosmology of Nyau people, the ritual dance performances, and the masks used for the dances. Nyau dance involves lots of foootwork and flinging dust into the air. The dancers respond to specific songs and drumbeats depending on the type of mask or character.