308.Gabber / The Netherlands
Gabber is the only Dutch subculture that got known globally and is now called hardcore after the music hard-style genre that it is performed to. Gabber dance consists of small steps that quickly follow each other to the rhythm of the bass drum. The lower body (down from the pelvis) is the most important part, though it is not unusual to move the arms and torso too. Because one is supposed to keep up to the beat of the song, the dance is usually done fairly quickly, since the BPM of this music style can easily reach 190 BPM.
309.GAGA / Israel / Global
GAGA is a movement language and pedagogy developed by Batsheva Dance Company director and teacher Ohad Naharin. It is used in Israeli contemporary dance and has two educational tracks which are taught in Israel and several other countries: Gaga/Dancers is intended for trained dancers and comprises the daily training of the Batsheva Dance Company; Gaga/People is designed for the general public and requires no dance training. Many dancers have stated that after taking Gaga classes, their passion for dance has been re-ignited and they have found new ways to connect to their inner beast without being self-conscious about how it looks and finding how to listen to their bodies/self.
310.Gagnam Style / South Korea / Viral
Gagnam Style is the name of pop song by South Korean musical artist Psy and his massively viral music video with the famous, much-imitated dance performed in it. It is named after Gangnam, a district of Seoul and one of the richest and most glamorous places in South Korea, which is as a symbol of conspicuous consumption and of materialism. The song was released with a music video featuring a distinctive dance, called the "horse dance." It consists of shuffling the feet with the legs bowed. The hands are crossed at the wrist and flicked as if holding reins of a horse. It had skyrocketed in popularity across the globe by the end of summer 2012 and as of 2017, the video was the most watched video on YouTube of all time, nearing three billion views.
Galopera is a Paraguayan folk dance without fixed choreography, improvised and traditional, therefore choreographies can be created according to tastes and creativity. At the same time, it is a musical genre, derived - according to ethnologists - from the Paraguayan polka.
Galuç is a dance from the Hallun village of Adiyaman Galuç in Turkey and depicts the struggle of the villagers fighting a poisonous weed called Galuç. Village men get up early in the mornings before planting season to eradicate the weed from the fields. At noon, the women bring their lunch in buckets and water in gourds. After lunch is consumed, the men get back to work. When the field is finally cleared of the weed, the men celebrate the occasion by performing the dance. Women join them, carry the gourds on their shoulders while men go through the symbolic motion of chopping the weed with their sickles.
313.Gambella DANCES / Ethiopia
Gambella DANCES from Gambella region in Ethiopia are characterised by the agile spin of the waist. The women dance while hurling a fringe decorated with cowrie. They dance using their entire body while playing the instrument(fringe) which makes a special type of sound.
GANGSTA WALK, often referred to as: G-Walk , Buckin, Tickin, Jookin, or Choppin. is a street dance that originated in Memphis, Tennessee alongside "Buck" music during the 1990s. It is commonly performed to crunk music du, etc.e to the particular bounce in the beat and the movement the dancers make to keep with it. Though it has been around for many years, much of the dance is still exclusive to the city and surrounding areas. Along with being a popular Street Dance, the Gangsta Walk is often viewed as a form of self-expression and relief from the hardships of living within the inner city. The dance can commonly be found in urban areas of Memphis like North Memphis, South Memphis, Orange Mound, Whitehaven, West Memphis, etc.
GANVIE is a traditional dance of Ganvie people near to Cotonou in Benin.
garba comes from the Sanskrit word for "womb" and so implies "gestation" or "pregnancy" - life. Traditionally, the dance is performed around a clay lantern with a light inside, called a Garbha Deep ("womb lamp"). This lantern represents life, and the fetus in the womb in particular. The dancers thus honour Durga, the feminine form of divinity. Garba is performed in a circle as a symbol of the Hindu view of time. The rings of dancers revolve in cycles, as time in Hinduism is cyclical.
GARBA comes from the Sanskrit word for "womb" and so implies "gestation" or "pregnancy" - life. Traditionally, the dance is performed around a clay lantern with a light inside, called a Garbha Deep ("womb lamp"). This lantern represents life, and the fetus in the womb in particular. The dancers thus honour Durga, the feminine form of divinity. Garba is performed in a circle as a symbol of the Hindu view of time. The rings of dancers revolve in cycles, as time in Hinduism is cyclical.
318.Garifuña dance / Belize
Garifuña dance is a dance performed by the Garifuña people in Belize, indigenous of mixed-race descendants of West African, Central African, Island Carib, European, and Arawak people. Garifuña culture in Belize displays many influences of its African heritage. Most of the slaves brought to the Caribbean were taken from the Niger and cross Delta regions in the Blight of Benin (present-day Nigeria) in West Africa, and from further south in the Congo and Angola. Much like the music of these areas, the Garifuña style of music relies heavily on call and response patterns. In accompaniment to their music traditions lie the Garifuña songs and dance styles, which are an integral part of their culture. The dances display a wide range of subjects like work songs, social dances, and ancestral traditions.
319.Garland Dance / England
Garland Dance is an English dance tradition that began in the 19th century in North England's mill towns. The Industrial Revolution was centralising people, bringing rural folk to factory work. As country girls moved to new industrial cities, they brought with them dancing traditions from many rural areas. Garland dancing was a new combination of familiar movements, made more picturesque by flower-covered garlands. Mill owners encouraged garland dancing as a form of healthful exercise that also brought beauty to company events and town parades.
Gathigiriri is a new urban dance style orginating from Gathigiriri settlement in Kenya.
Gauna Nritya is based in Mithila Tradition and popular in Janakpur region of Nepal. This dance is usually performed in the religious occasions.
Gbame is a traditional dance from Togo.
323.GBE GBE / Ivory Coast
GBE GBE is a dance from the Bété ethnic group from Ivory Coast. It starts with the stamping the feet right, left, right, left. Then the middle dancer wiggles his arms and the other dancers run around the middle dancer. Afterwards the dancers pair up and spin around each other. After that all the dancers wiggle their arms and touch the floor with their right arm. And then they slap their waists and look side by side. Then they ran and almost collide with each other and spin while doing so.
Gerewol is a type of a courtship dance and also annual ritual competition among the Wodaabe Fula people of Niger. Young men dressed in elaborate ornamentation and made up in traditional face painting gather in lines to dance and sing, vying for the attentions of marriageable young women. They adorn themselves with beads and feathers, trying to make themselves attractive to the females who act like they're blasé about it all but end up choosing the one they like best. Gerewol occurs each year as the traditionally nomadic Wodaabe cattle herders gather at the southern edge of the Sahara before dispersing south on their dry season pastures. The most famous gathering point is In-Gall in northwest Niger, where a large festival, market and series of clan meetings take place for both the Wodaabe and the pastoral Tuareg people.
325.Gesture dancing / China / Viral
Gesture dancing is a hot dancing phenomenon on a Chinese music video and social network platform called Douyin. The dancing expresses the rhythm by using hands. In March 2018 it got viral around the Chinese Internet and everyone started to imitate it. Through the movements of fingers, wrists, joints, rotations, jumps, etc., the gesture dance is unpredictable.
326.Ghasem Abadi DANCE / Iran
Ghasem Abadi DANCE is a dance originating from Ghasem Abad village in Guilan province, in Northern Iran, near the Caspian Sea. It is a chain genre, rice-harvesting dance of the Gilaki people. It is performed with a happy kind of folk music in Gilaki and in local costumes. It is inspired by the colours and prayers of the people of Gilan. It expresses happiness and prayers of the people during the harvesting season.
Ghatu Nritya is a popular dance among the Gurung community of Nepal. Mainly 10-19 years girl performs the dance with their traditional customs singing mantras.
GHOOMAR is a traditional Indian Bhil tribe folk dance, originally performed for worshipping goddess Saraswati. Originating in Marwar, it is traditionally performed during auspicious occasions, including the onset of rains, Diwali, Holi and on a bride's arrival at her marital home. Ghoomar is not only an act of singing and dancing but this folk dance is also a symbol of womanhood, a "rite of passage" in which young girls participate, declaring that they are entering womanhood.
Ghumura is one of the leading folk dance form in Odisha, India. It is claimed to have been a war dance in ancient India and used by Ravana in Ramayana. Ghumura is depicted in Sun Temple of Konark confirming this dance form's presence during the medieval period. It was also used as a Darbari dance in the princely state of Kalahandi and played by the erstwhile Kalahandi state during war times. The typical mixed sound that comes out of the musical instruments like Ghumura, Nishan, Dhol, Taal and the expressions and movements of the artists make this dance a "Heroic Dance". Over thousands of years Ghumura has evolved from a war dance to a dance for cultural and social activities, associated with social entertainment, relaxation, love, devotion and friendly brotherhood among all class, creed and religion in the present days.
Giddha is a popular folk dance of women in Punjab region of India and Pakistan. It is often considered to be derived from the ancient dance known as the ring dance and is just as energetic as bhangra. It creatively shows feminine grace, elegance and flexibility. Women perform this dance mainly at festive or social occasions. The dance is followed by rhythmic clapping and a typical traditional folk song is sung by the aged ladies in the background.
GIF Dance is a dance presented in gif animations. GIF stands for Graphics Interchange Format and it is a bitmap image format that supports up to 8 bits per pixel for each image, allowing a single image to reference its own palette of up to 256 different colours chosen from the 24-bit RGB colour space. It also supports animations and allows a separate palette of up to 256 colours for each frame. These palette limitations make GIF less suitable for reproducing colour photographs and other images with colour gradients, but it is well-suited for simpler images such as graphics or logos with solid areas of colour. GIF dancers are widespread on the Internet.
332.GIOCA JOUER / Italy / Spain / UK / Viral
GIOCA JOUER was a song written by Italian musicians Claudio Cecchetto and Claudio Simonetti in 1981. It had a really great success in Italy, also being the Festival di Sanremo of 1981 opening theme. In the summer, it also arrived in Spain and became very popular in discos. Translated into English, it became "Superman" and got popular in the UK. The song featured a number of dance gestures that acted out the lyrics - including walking, swimming, skiing, spraying deodorant, sounding a horn, ringing a bell, flexing muscles as a "Macho Man" and flying like a Superman. These dance moves were detailed on the record sleeve of by Black Lace. In 1987, Colin Gibb released an alternative version of the song with explicit lyrics, entitled "Supercock".
333.Giriama Dances / Kenya
Giriama Dances are traditional dances performed by the Giriama people, an agricultural and hunter-gathering Bantu-speaking sub tribe of the larger Mijikenda (Nyika) ethnic group living along the coastal areas of Kenya.
GNAWA refers to spiritual music and dance that finds its roots in sub-Saharan Africa, tracing back to the region's history with slavery and currently performed in Morocco and other parts of the Maghreb. This type of music mainly descendants of slaves, gathered in mystical Muslim brotherhoods. Trance plays an important role in this type of music and dance, insofar it refers to religious and mystical phenomena. The music is performed at "lila", entire communal nights of celebration dedicated to prayer and healing guided by the Gnawa "maalem", or master musician, and their group of musicians and dancers.
335.Goa Trance / India / Global
Goa Trance is a dance form performed to the electronic music that developed around the same time as Trance music became popular in Europe. It originated during the late 1980s and early 1990s in the Indian state of Goa. Trance music was pop culture's answer to the Goa Trance music scene on the beaches of Goa where the traveler's music scene has been famous since the time of the Beatles. Goa Trance enjoyed the greater part of its success from around 1994-1998, and since then has dwindled significantly both in production and consumption, being replaced by its successor, Psytrance.
GOMBEY is a dance from Bermuda, mixture of British, West African and indigenous new-world cultures. It refers to a specific type of drums of African origin. Some also relate Gombay to a Bantu word standing for "rhythm". It is quite similar to Mummers, seasonal folk play performed by troupes of actors during Afro-Caribbean styles of celebrations. Usually male dancers perform Gombeys in groups of 10-30 in masquerade costumes with bright colors and odd angles. The costume designs often reflect the plumage of tropical birds. The energetic dance gradually picks up and grows faster with time and becomes a great spectacle. Tradition of Gombey dance is passed on through generations through personal coaching. The captain of each troupe decides the style the troupe would specialize in with subtle differences in beats, dances, costumes.
337.Gopnik Dance / Russia / Ukraine / Latvia
Gopnik Dance is a dance performed by Gopniks, a particular subculture in Russia, Ukraine, and other former Soviet republics, young men or women of sometimes lower-class suburban areas (usually under 25 years of age) coming from families of poor education and (sometimes) income. Gopniks are often seen squatting in groups outside blocks of flats or schools. They are often seen wearing Adidas tracksuits, which were popularised by the 1980 Moscow Olympics Soviet team. Gopniks are often associated with cheap alcohol, such as low quality vodka and light beer, and cheap cigarettes. Gopnik dance is usually performed informally either on the streets or in the places where Gopniks spend their time.
GORA is traditional dance from Burkina Faso.
Gotipua is a traditional dance form from the state of Odisha, India. It has been performed in Odisha for centuries by young boys, who dress as women to praise Lords Jagannath and Krishna and who perform acrobatics inspired by the life of Radha and Krishna. They begin to learn the dance at an early age until adolescence, when their androgynous appearance changes. In the Odia language Gotipua, means "single boy". To transform into graceful feminine dancers the boys do not cut their hair. They style it into a knot and weave garlands of flowers into it. They paint faces with mixed white and red powder, and apply kajal around the eyes. Bindi, usually round, is applied on the forehead, surrounded by a pattern made with sandalwood. Traditional paintings, unique to each dance school, adorn the face.
340.Graduate dance / Global
Graduate dance are various dances performed by graduate students upon completion of their studies at their graduation ceremonies or celebrations.
GRAHAM is a technique is a modern dance and pedagogy created by American dancer and choreographer Martha Graham (1894–1991). Graham technique has been called the "cornerstone" of American modern dance, and has been taught worldwide. It is widely regarded as the first codified modern dance technique, and strongly influenced the later techniques of Merce Cunningham, Lester Horton and Paul Taylor. It is based on the opposition between contraction and release, a concept based on the breathing cycle which has become a "trademark" of modern dance forms. Its other dominant principle is the "spiralling" of the torso around the axis of the spine. Graham technique is known for its unique dramatic and expressive qualities and distinctive floor work. It is described as powerful, dynamic, jagged and filled with tension.
342. GRAVITY DANCE STEP / USA / Global
In 2017 Ariel Oliver shows GRAVITY DANCE STEP (GMA) how she pulls off her "invisible step" move that has been retweeted over 120,000 times. Thousands of youngsters trying to unlock her magic and introduce this step into the move and dance environment of the internet.
Guaguancó is a Cuban couple dance of sexual competition between the male and female. The male periodically attempts to "catch" his partner with a single thrust of his pelvis. This erotic movement is called the vacunao ("injection"), a gesture symbolising sexual penetration. The vacunao can also be expressed with a sudden gesture made by the hand or foot. Holding onto the ends of her skirt while seductively moving her upper and lower body in contrary motion, the female "opens" and "closes" her skirt in rhythmic cadence with the music. The male attempts to distract the female with fancy (often counter-metric) steps, accented by the quinto, until he is in position to "inject" her. The female reacts by quickly turning away, bringing the ends of her skirts together. Mostly the male dancer does not succeed in "catching" his partner.
Guan Yin is a thousand hands DANCE, based on Dewi Kwan Im / Mak Kwan Im ("Mother Guan Yin"), an East Asian bodhisattva associated with compassion and venerated by Mahayana Buddhists and followers of Chinese folk religions, also known as the "Goddess of Mercy" in English. The Chinese name Guan Yin, short for Guanshiyin, means "[The One Who] Perceives the Sounds of the World". Thousand-Hand Guan Yin dance was created by Zhang Jigang. The performance consists of 63 members of the China Disabled People's Arts Troupe, all of whom are hearing-impaired. Due to their deafness, six choreographers dressed in white cloth guide the performers to synchronise them with the music. First performed in 2005, the production has captivated audiences around the globe.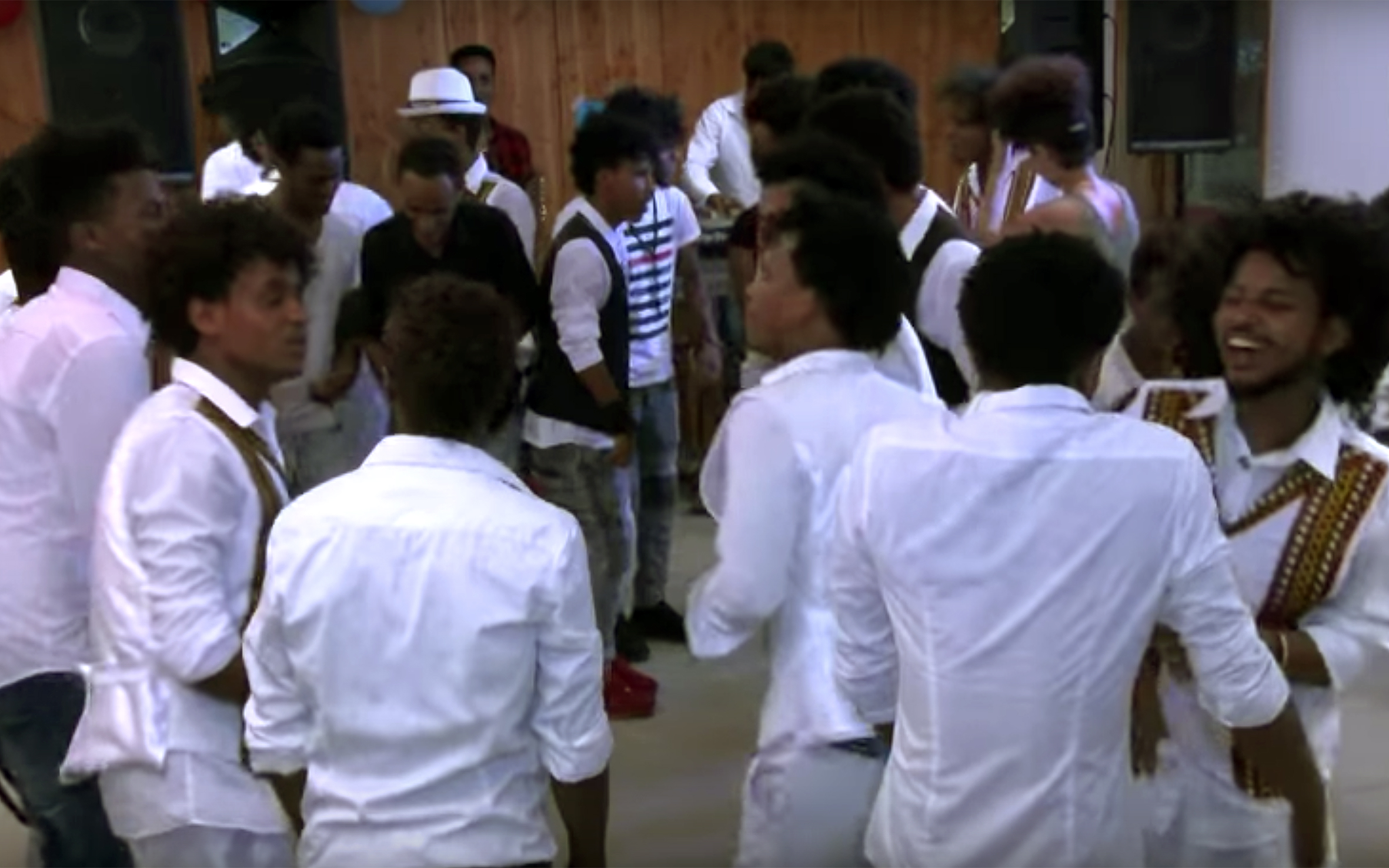 Guayla is a specific dance form coming from Eritrea, where, with nine different ethnic groups, dance plays a very important social role. The Bilen, Tigre and Tigrinya groups have dance commonly performed by a group of both sexes in a circle. While the Bilen and Tigre ethnic groups call it Golia, or Sisiit, the Tigrinyas call it Guayla or Kuda. The dance movements have variations: the Bilen and Tigre shake their shoulders while standing only to rotate in the circle towards the end of the dance, whereas, the Tigrinya first dance rotating anti-clockwise but later alter it to fast paced shoulder movements while facing a partner breaking the circular rotation.
346.Guedra / Morocco / Mauritania / Algeria
Guedra is a dance particular to Southern Morocco, Mauritania and Algeria. The primary meaning of Guedra is a cooking pot, covered with a stretched leather skin to create a drum, also known as Guedra. The drummer plays a beat representing a heartbeat. The movements of the dancers respond to the beat. Guedra is danced usually by women, and is about body language. For the most part the dancers are covered by a piece of fine fabric whilst performing, but beneath this veil they are heavily adorned, with henna, jewels and headpieces. The choreographies have varied meanings and depths, where the religious, aesthetic, metaphysical and mythical dimensions are crossing one another. The dance is generally performed in Nomadic tents, and as such the women remain on their knees for much of the performance.
347.GUERE DANCES / Ivory Coast
GUERE DANCES are masks dances from Ivory Coast performed in the wooden masks. All these masks come from a sacred forest, where only the initiated may enter. Some of the masks dance are on stilts. Other people do stunts.
Gudi Padwa is a spring-time festival that marks the traditional new year for Marathi Hindus. It is celebrated in and near Maharashtra, India on the first day of the Chaitra month to mark the beginning of the New Year according to the lunisolar Hindu calendar. The word "padwa" comes from the Sanskrit word "pratipada", which refers to the first day of a lunar fortnight. The festival is observed with colourful floor decorations, a special Gudi flag (garlanded with flowers, mango and neem leaves, topped with upturned silver or copper vessel), street processions, dancing and festive foods. The dance performed to celebrate this festival is called Gudi Padwa.
349.Gumbe / Guinea-Bissau
Gumbe is a style of dance to a Gumbe music that originated from several musical traditions in Guinea-Bissau. Gumbe music is primarily characterised by its use of polyrhythmic motifs between the guitars and percussion, although originally it was mainly performed with vocals and percussion. It's likely that the goombay music of the Bahamas is related to gumbe music of Guinea-Bissau and was brought over during the slave trade. It's also related to Caribbean zouk music.
350.Gumboot / South Africa
Gumboot is an African dance that is performed by dancers wearing wellington boots. In South Africa these are more commonly called "gumboots". The boots may be embellished with bells, so that they ring as the dancers stamp on the ground. This sound would be a code or a different calling to say something to another person a short distance away. This was used to communicate in the mines, as there was strictly no talking otherwise there would be severe, drastic punishments at the discretion of their superior. Rooted back in the dark gold mine tunnels of South Africa, gumboot dancing has come full circle. Initially a codified tap used by black miners deprived of conversation, today it is one of the most expressive South African dance genres.
351.Gurage Dances / Ethiopia
Gurage Dances are performed by the Gurage people from Ethiopia, who are famous for being hard working, thus their dancing style spreads an image of hard working people. Differing from other dances, women dance with pants and they cover their hair with scarf for preparing for the fast tempo dance. According to up beat music both women and men keep steps first without rest like a marathon runner.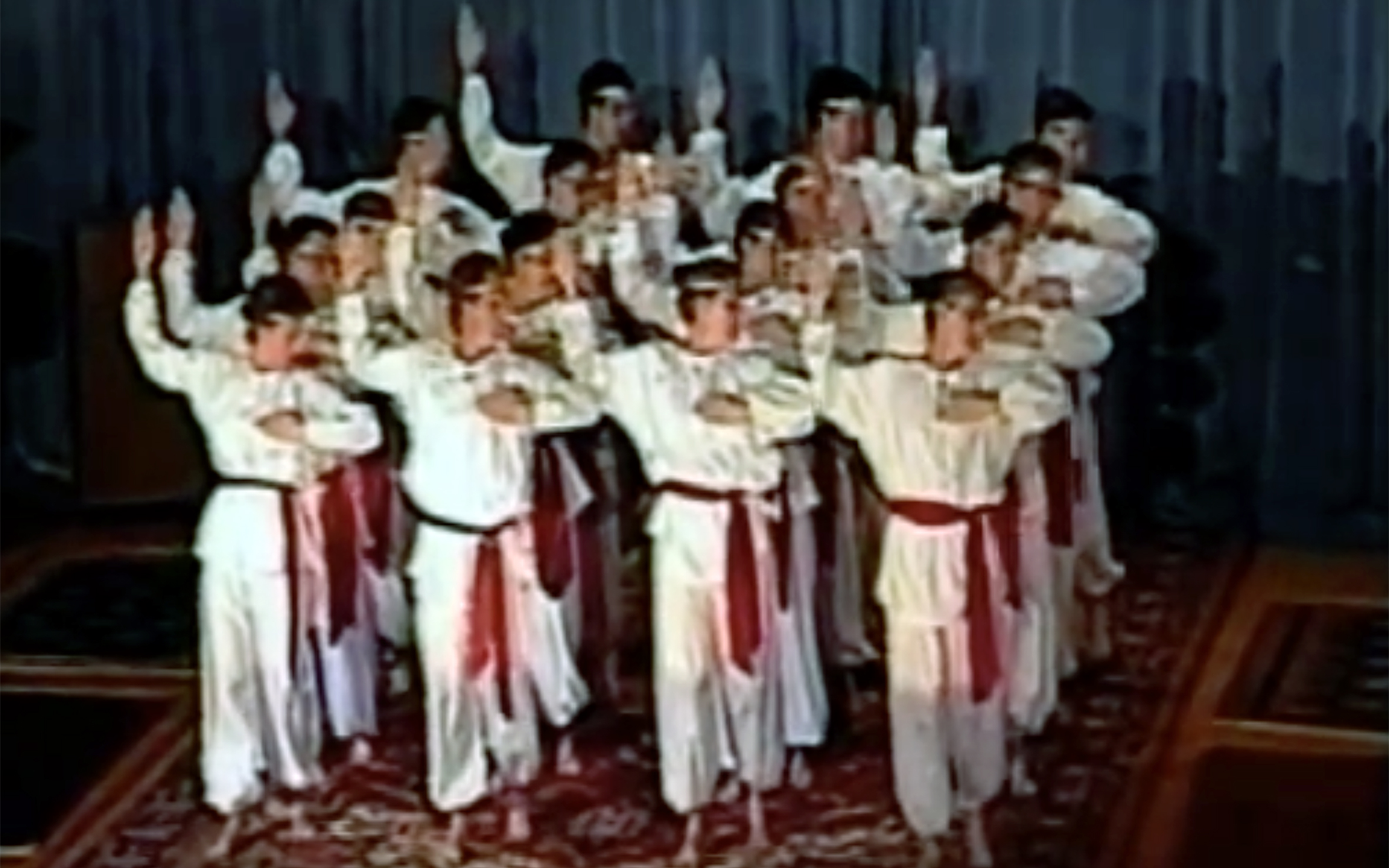 352.Gurdjieff movements / Global
Gurdjieff movements is a series of sacred dances collected or authored by G. I. Gurdjieff and taught to his students as part of the work on self observation and self study. Gurdjieff movements are not merely exercises in concentration and display of bodily coordination and aesthetic sensibility. On the contrary, in the movements real, concrete knowledge is embedded and passed from generation to generation of initiates - each posture and gesture represent some cosmic truth. Some Gurdjieff's followers claim that Gurdjieff Movements can only be properly transmitted by those who themselves have been initiated in the direct line of Gurdjieff. The movements are purportedly based upon traditional dances that Gurdjieff studied while travelling throughout central Asia, India, Tibet, the Orient and Africa, where he encountered various Indo-European and Sufi orders, Buddhist centers and other sources of traditional culture and learning.
353.GURUNSI / Burkina Faso
GURUNSI is a traditional dance from the Gurunsi people of Ghana and Burkina Faso, known for their zoomorphic masks, covered with geometric motifs.
354.Gwara Gwara / South Africa
Gwara Gwara is a South African dance that was made popular by a South African dance music artist, DJ Bongz, with the introduction of his hit single "Ofana Nawe," featuring Sobz. The dance went viral after DJ Bongz posted tutorials of how to do the dance on his social media and has been featured in the videos of some of the country's biggest hits, including "Wololo" by Babes Wodumo and "Gobisiqolo" by Bhizer. Gwara Gwara dance has become one of the most popular dance styles in Africa. It incorporates a full body dip, and gets the arms involved too.
Gweta is a modern dance style in Africa. It derives its name from the sound of croaking bullfrogs which bury themselves in the sand until the rainy season arrives and they emerge to mate. Toofan, the group that sang the Gweta song originally, made up the dance itself and the name of the dance. It is an advanced two step that one can do any kind of freestyle in. It is an easy to follow dance particularly when preformed in groups. These days it can now be seen danced far and wide in Africa, including at weddings.
356.GWOKA / Guadeloupe / Martinique
GWOKA is a mixture of dancing, singing and playing music. Created by slaves from Africa to Guadeloupe, it was a form of political claim where the singing was based on question-answer song. Dancers and musicians together form a circle where one person is dancing in the middle. Throughout time, it is combined with local culture and nowadays Gwoka is one the most iconic culture trait of Guadeloupe. It is a dance of improvisation, a dance of the instinct, of the moment, dance of resistance, of resilience and adaptation: Dance of Life.
357.Gypsy's dance / Slovakia / Hungary / Romania
Gypsy's dance in Slovakia, Hungary and Romania expresses pride, joy, fire, temperament, but also sadness, and it does have spirit of Orient. It is truly colourful, wild and full of sunshine. It is a very rhythmic dance that helps relieve muscle tension and accumulated aggression. It is always part of a far wider and more important non-verbal vocabulary of Gypsy communication and behaviour. It is the heart of a transformation, an escape from the reality of everyday life into the exciting world of motion and relaxation. Gypsy dances are enriched with various props that give dances a bigger visual effect like a tambourine, scarf, bells and candles. It has influences of Slovak and Hungarian csardas and Russian gypsy dances. It is performed individually or in a group.